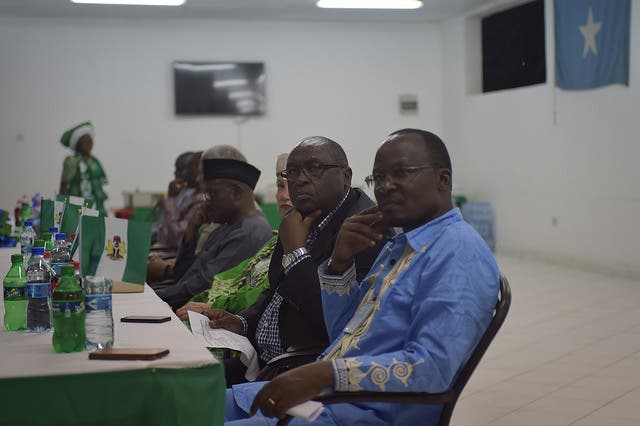 MOGADISHU (Caasimada Online) The African Union Mission in Somalia (AMISOM), sent a congratulatory message to Nigeria on its 58th Independence anniversary, which was marked in the Somali capital of Mogadishu on Monday.
The deputy Head of AMISOM, Mr. Simon Mulongo, hailed Nigeria for its contribution to global peace support operations. Mulongo officiated the country's Independence day celebrations, held last evening.
"As a police contributing country, Nigeria is one of those that have made impeccable contributions and have one of the strongest contingents of police, the Formed Police Units, here in Somalia," said the deputy AU Special Representative for Somalia.
The Independence Day celebrations was attended by senior AMISOM and UN officials, among them, the Head of UNSOS Ms. Lisa Filipetto, the AMISOM Force Commander Lt. Gen. Jim Beesigye Owoyesigire, and the AU Mission's Head Mission Support Maj. Gen. (Rtd) Fidza Dludlu.
Nigeria's contribution to peace support operations in Somalia dates back to 1992 when the country contributed troops to the United Task Force in Somalia (UNITAF).
In her remarks, Head of UNSOS Ms. Lisa Filipetto recognized the efforts and achievements of Nigeria, in the furtherance of global peace, and at the same time paid tribute to the Nigerian Armed Forces, the police and other security and law enforcement agencies, who are making supreme sacrifices by "working under such difficult conditions in various parts of the world, including Somalia", to foster peace.
"I would like to pay homage to the Nigerian Formed Police Unit, the Individual Police Officers and the civilians of both AMISOM and UN, for their efforts to find peace in Somalia," said the Head of UNSOS.
Ms. Filipetto assured AMISOM and the Troop Contributing Countries, of the UN's unwavering support. "We, in the UN, will do our best, to ensure we provide AMISOM and all the TCCs and PCCs, the most effective and efficient logistical support to enable the Mission achieve its mandate. We are really guided by the fact that the success of AMISOM is the success of us all," she stated.
Nigeria has been a major contributor of troops and police to UN peacekeeping operations since 1960. "We solely believe and share a common goal of making Nigeria a great nation," noted Lt. Col. Ogbonnaya Igwe, the lead organizer of the Independence celebrations.
Nigeria maintains police presence in Somalia through the deployment of Individual Police Officers (IPOs) and the Formed Police Units (FPUs), under the African Union banner.
PRESS RELEASE