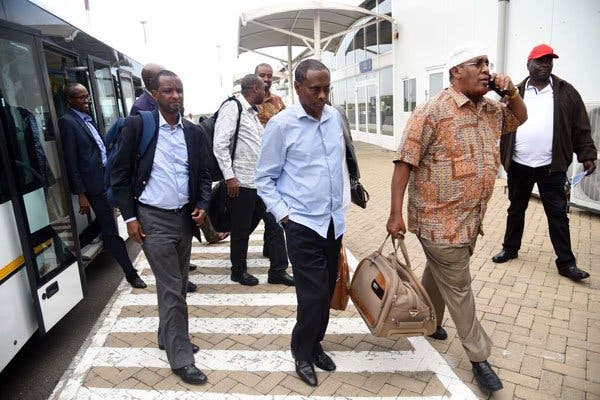 Nairobi (Caasimada Online) – Guddoonka baarlamanka dalka Kenya ayaa go'aan ka gaaray xildhibaanadii dhowaan u safray magaalada Muqdisho ee doodda badan ka dhaliyey dalkaas.
Afhayeenka baarlamanka Kenya Justin Muturi ayaa sheegay in xildhibaanadaas aan wax ciqaab ah la marin doonin.
Muturi ayaa sheegay in inkasta oo xildhibaanada ay jebiyeen qodobka 260 ee xeerka baarlamanka, oo dhigaya inay safarada dibedda kusoo war-geliyaan guddoonka, haddana uusan jirin sharci dhigaya in la ciqaabo.
"Ma jiro wax sharci ah oo qeexaya in la ciqaabo xildhibaanada aan afhayeenka kusoo war-gelin safaradooda, balse waxaan ugu baaqayaa inay ilaaliyaan qodobka lixaad ee dastuurka," ayuu yiri Muturi oo ka hadlay kulankii baarlamanka ee shalay.
11-ka xildhibaan ee u safray Muqdisho iyo deegaanada laga soo doorto ayaa kala ah: Ahmed Kolosh (Wajir West), Ibrahim Abdi (Lafey), Rashid Kassim (Wajir East), Mohamed Hire (Lagdera) and Omar Maalim (Mandera East). Others are Bashir Abdullahi (Mandera North), Adan Haji (Mandera West), Kullow Maalim (Banisa), Adan Ali Sheikh (Mandera South), Ahmed Bashane (Tarbaj) iyo Mohamed Dahir (Dadaab).
Xildhibaan Rashiid Qaamis oo ka mid ahaa xildhibaanada Kenya ee sabtidii tegay Muqdisho, ayaa sheegay in cadaadiska madaxweyne Uhuru Kenyatta uu ku qasbay inay u safraan magaalada Muqdisho.
"Waxaan la kulanay madaxweyne Uhuru Kenyatta, waxaana uu nagu qasbay inaan isu tagno oo aan xal u helno arrintan ururka Al-Shabaab ee ka taagan gobolka Waqooyi Bari," ayuu yiri Rashiid Qaasim oo laga soo doorto Wajir East.
Madaxweynaha Kenya Uhuru Kenyatta, oo 25-kii Febraayo la kulmay hogaamiyayaasha Waqooyi Bari Kenya ee Soomaalida aho ayaa u qabtay 14 maalmood, si ay ula yimaadaan xal wax looga qabanayo dhibaatooyinka amni-darro iyo falalka argagixiso ee ka jira gobolka.
Sida uu weriyey wareyska The Standard, madaxweynaha ayaa xubnahan u sheegay in falalka argagixiso ee gobolka ka socda ay gaysanayaan dad gobolka kasoo jeeda, ayna qasab tahay inay wax ka qabtaan dadka gobolka.