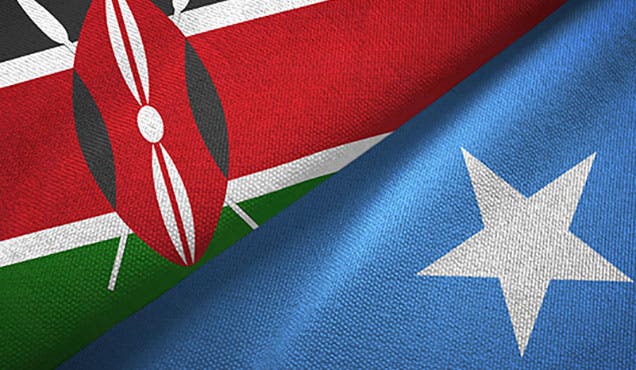 Nairobi (Caasimada Online) – Dowladda Kenya ayaa baaritaan ku billowday siyaasiyiin ay ku jiraan xubno gole deegaan oo kasoo jeeda Waqooyi Bari iyo qareenno, kuwaas oo lagu tuhunsan yahay inay "u jaajuusaan" dowladda Soomaaliya iyo Al-Shabaab, waxaa sidaas qoray wargeyska The Star ee Nairobi.
Sida lagu sheegay warbixinta wargeyska, qareenada baaritaanka ku socdo ayaa u shaqeeya hay'ado ka tirsan dowladda Soomaaliya iyo saraakiil dowladeed oo sare.
Waxaa jira walaac ku saabsan inay xog xasaasi ah iyo akhbaar sir ah u gudbinayaan dowladda Soomaaliya iyo kooxaha argagixisada.
Wargeyska The Star ayaa qoray, in siyaasiyiinta baaritaanka ku socdo la rumeysan yahay inay mushahar ka qaataan dowladda Soomaaliya iyo Al-Shabaab.
Qaar ka mid ah kuwa baaritaanka lagu hayo ayaa xilal sare kasoo qabtay dowladda Kenya, waxayna weli xiriiro wanaagsan la leeyihiin labada dal, inkasta oo kuraastooda ay waayeen.
Baaritaanka ayaa billowday kadib markii 11 xildhibaan oo kasoo kala jeeda Mandhera iyo Wajir ay booqdeen Muqdisho lana kulmeen madaxweyne Maxamed Cadullaahi Farmaajo, ayaga oo aan ogolaansho ka helin wasaaradda arrimaha dibedda Kenya.
Xildhibaanadan ayaa sheegay inay Muqdisho u tageen wada xaajood ku saabsan sidii xal loogu heli lahaa dhibaatada Al-Shabaab.
Warbixinta The Star ayaa leh, Nairobi waxay ka carreysan tahay in Muqdisho ay hareer martay nidaamyadii xiriir ee saxda ahaa, islamarkaana go'aansatay inay si toos ah ula hadasho shakhsiyaad, kuwaas oo qaarkood kasoo wada jeeda hal qabiil oo dega Waqooyi Bari Kenya.
Wargeyska ayaa ilo-wareedyo kasoo xigtay in dowladda Soomaaliya, ayada oo adeegsaneysa hay'adda sirdoonka ee NISA, ay billowday wada-hadallo sir ah oo ay la leedahay siyaasiyiin kasoo jeeda Mandhera, Garissa iyo Wajir.
"Qaar ka mid ah xubnaha golayaasha deegaan ayaa loo isticmaalay inay billaabaan cabashooyin ka dhan ah dowladda Kenya, sababo la xiriira faro-gelinta la tuhunsan yahay inay ku hayso arrimaha gudaha dowladda Soomaaliya," waxaa sidaas The Star u sheegay xubin ka tirsan maamulka Waqooyi Bari.
Warbixinta wargeyska ayaa ugu dambeyn sheegtay in haddii tuhunka lagu caddeeyo xubnahan ay wajihi karaan dacwado la xiriira "u jaajuusidda' dal kale.