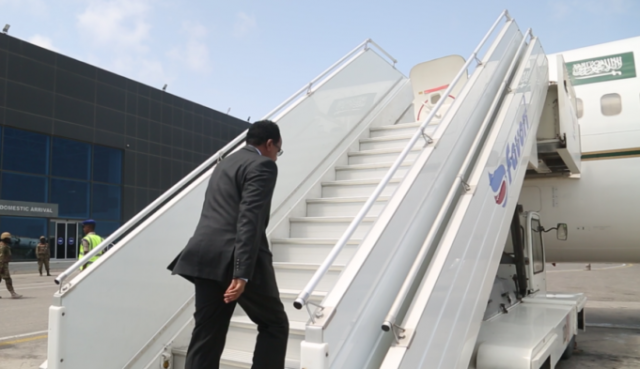 MOGADISHU (Caasimada Online)—High level delegation led by the president of the federal republic of Somalia, Mohamed Abdullahi Farmajo jetted off to Juba, South Sudan.
President Farmajo is set to attend a ceremony scheduled to finalize the peace deal signed by South Sudan's President Salva Kiir and his main rebel leader Riek Machar, in a bid to end a five-year war left tens of thousands dead.
Somali President is also expected to hold talks with President Salva Kirr of South Sudan and his rival Riek Machar.
The deal in Ethiopia reinstated Machar in his former role as vice president and comes after a peace deal was officially agreed upon between the government and rebel groups.
South Sudan descended into civil war in 2013, shortly after independence in 2011, after Kiir accused Machar, then his deputy, of plotting a coup.
The war has uprooted one-quarter of South Sudan's population of 12 million, ruined the country's agriculture sector, and battered its economy.
South Sudan resumed pumping 20,000 barrels a day of crude oil from the Toma South oilfield last month, where production had been suspended since 2013 because of the civil war.
Caasimada Online
Mogadishu News Desk