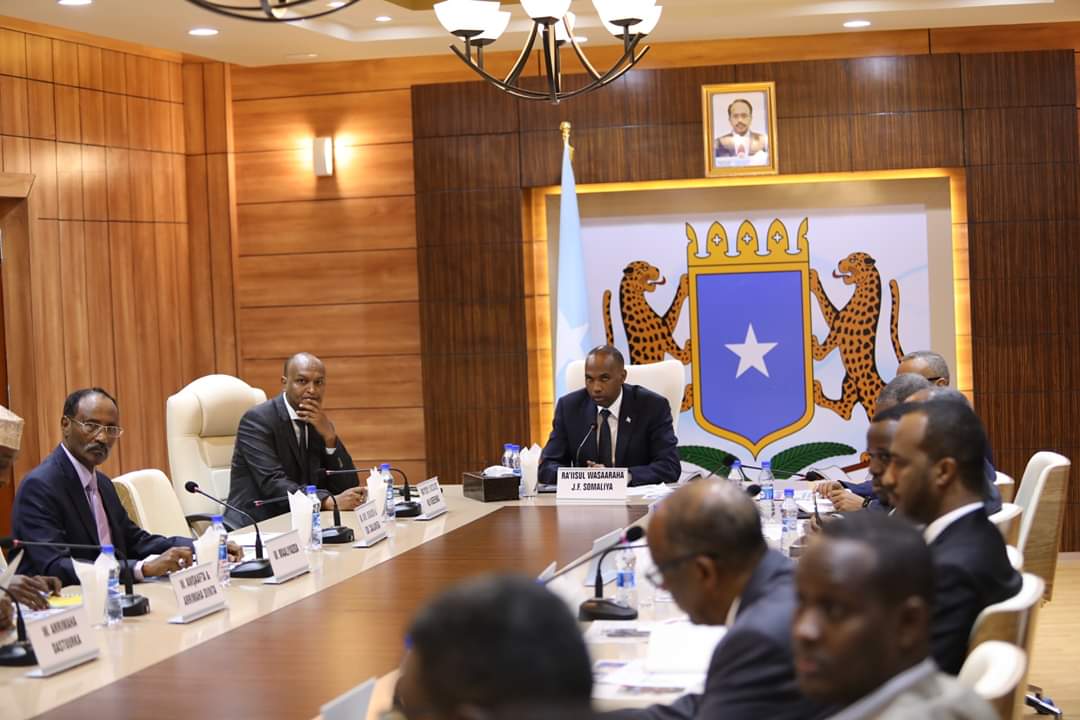 Mogadishu, 14 November 2018. Somalia has hosted its first high level National Economic Policy Forum this week in Mogadishu, which saw participants discuss a national investment strategy, financial governance, tackling corruption and how to enhance regional economic cooperation with other East African countries.
The day-long forum was hosted by the Deputy Prime Minister of Somalia, Mr. Mahdi Mohamed Guled, as well as the Executive Director of a newly established National Economic Council (NEC) for Somalia, Dr. Ali Issa Abdi, and facilitated by the Ministry of Planning. It was attended by Federal and Members State Government representatives, UN officials, and private sector, academia and civil society members.  The Federal Minister of Finance, Dr. Abdirahman Dualeh Beileh, and the Federal Minister of Planning, Mr. Gamal Hassan, also attended the event. The forum was supported by the United Nations Development Programme (UNDP).
In his key remarks at the opening session, Deputy Prime Minister Guled said the Federal Government had made tangible progress on public financial management reforms and in increasing domestic revenue to deliver services to the Somali people, adding: "The government is committed to enacting policies and developing strategies to revive the economy, and the National Economic Council, and this Forum, plays a key role in these efforts," he said.
During the event, a team of economic experts presented initial findings from research on tackling corruption, domestic revenue mobilization, resource sharing, and economic governance and cooperation. The legal frameworks required for an investment strategy were also presented at the meeting.
George Conway, UNDP Country Director, and acting Resident Coordinator for the UN in Somalia, congratulated the Government and the NEC in hosting the forum, but added that it was important that the most vulnerable and often marginalized groups, including women headed households, young people and IDP communities, should be included in financial and economic opportunities, and in strategies produced by the Government.
"These groups will require specific strategies to ensure a dignified and safe integration into local economies and service delivery systems.  But it's also important that women, that youth, and that IDPs be engaged not as passive beneficiaries in the system, but as active agents and drivers of positive change in the economy," Mr. Conway said.
The next National Economic Council forum is due to be held in January 2019, and will discuss the final version of the resource mobilisation, corruption and financial governance reports presented at the meeting.
Media contact:
Keelin FitzGerald, Communications Specialist, United Nations Development Programme Somalia (UNDP). Email: keelin.fitzgerald@undp.org