MOGADISHU (Caasimada Online)—Somalia will be marking the first anniversary of a truck bombing in Mogadishu on 14 October that devastated Mogadishu capital, leaving at least 500 people dead and many others with debilitating injuries or still missing.
The country's deadliest truck bomb explosion happened 14th Oct, 2017 at Zobe junction, a busy crossroad in Somali capital Mogadishu.
The local government has on Friday placed a memorial tower at scene of deadliest truck bombing KM5 (Zobe) junction to mourn those who lost their lives.
Somalia is preparing to mark the first anniversary of a truck bombing in Mogadishu on Sunday, 14 October that killed 512 people.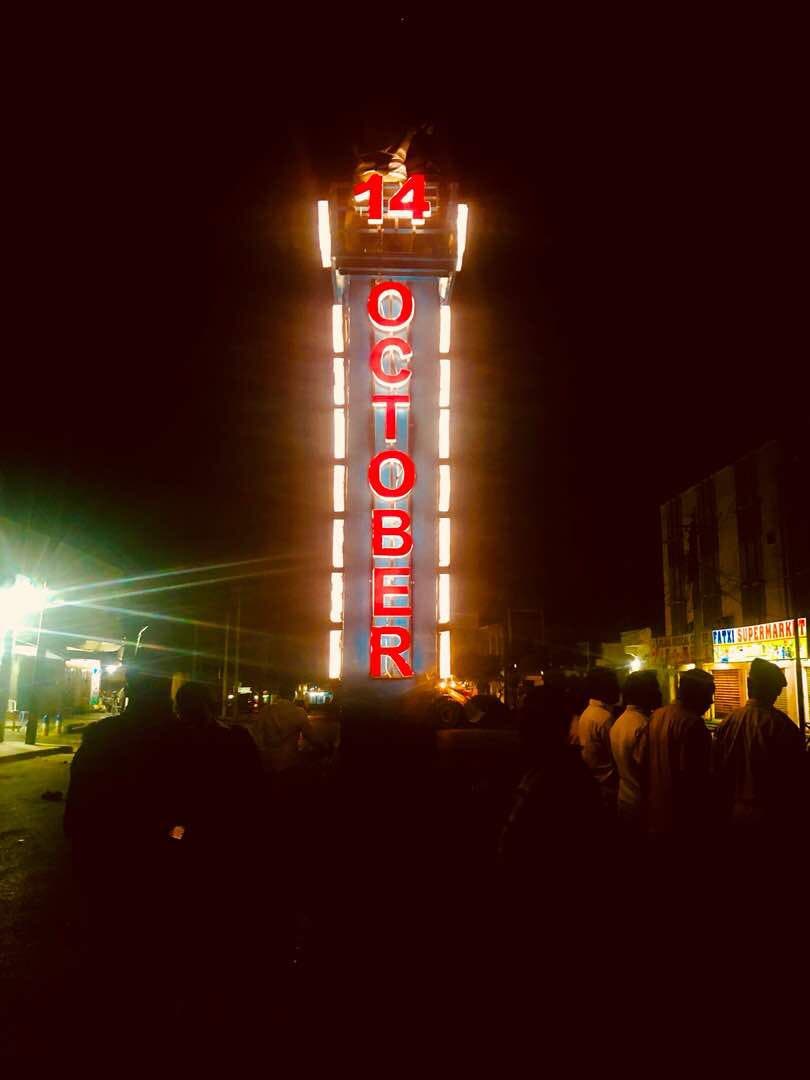 The country has seen its catastrophic militant bomb and assassination attacks in its recent months.
Last year's October 14 truck bombs at the busy Zobe junction —since renamed October 14 in memory of the victims— were the bloodiest.
The attack caused hundreds of families to lose their loved ones as some were their breadwinners.
Somali President Mohamed Abdullahi and his premier promised to stand helping those who lost their loved ones in the heinous attack.
Caasimada Online journalists said bodies and, buses and cars had been seen on the ground, shortly after the suicide explosion in the capital of Mogadishu.
Caasimada Online photojournalists also captured graphic photos showing that the truck bombing destroyed nearby hotel, restaurants, shops and mosques.
In an interview, former Mayor of Mogadishu, Thabit Abdi Mohamed says it was true that families had been experiencing the trauma and pain of losing their loved ones in the explosion..
He says he had never seen such a horror in my life.
"The attack was a disaster and I realized that we could not handle alone", Mohamed said.
Mohamed, who devoted his time and energy, has led the massive voluntary efforts to response to the disaster and help the victims of the horrible explosion.
"I'm sure that many families are still experiencing the trauma and pain of losing their loved ones,  but, I hope for better times ahead is still stronger than ever", he said.
Mohamed, who still wearing his red armband over the bombing, has called on local residents in Somali capital Mogadishu to remember the victims of October 14.
The current Mayor of Mogadishu, Abdurahman Omar Osman said his Mogadishu Municipality had built a Memorial Symbol at the site of the 14th October truck bomb attack, in a bid to honor of the victims
"This is a sign and reminder of the KM5 intersection, but, from now on, it will be called as which is now called the crossing of the 14th of October junction to remember those who killed in the attack", Osman in a Twitter post.
Astaantan waa calaamad iyo xasuusin isgoyskii KM5 oo hadda la yiraahdo isgoyska 14 October. Waxaan qorsheyneynaa in la sameeyo Taallo iyo goob lagu soo bandhigo magacyadii shaqsiyaadkii naga geeriyooday maalintaas madow. pic.twitter.com/7AoVrsoCyI

— Abdirahman O. Osman (@engyarisow) October 13, 2018
Osman says attack united the people like never before and through that unity, adding that "we faced the disaster together and came through".
Earlier on Saturday, hundreds of people, mainly students from schools and universities have been seen shooting selfies before the erected memorial tower at scene of deadliest truck bombing— KM5 (Zobe) junction in Somali capital Mogadishu.
The deadliest bomb attack was blamed on Al Qaeda linked Al Shabaab group on Somalia. But the group denies to have carried out it.
The group was ousted from the capital, Mogadishu, in August 2011, but still has a presence in large areas of southern Somalia and often stages attacks across Somalia.
Al-Shabaab, which is waging an insurgency against the Somali government, has recently suffered several significant blows, losing most of its strongholds in southern and central to Somalia army and and African Union troops.
Somalia has remained in the grip of on-again, off-again violence since the outbreak of civil war in 1991.
Caasimada Online
Mogadishu News Desk
Caasimada@live.com