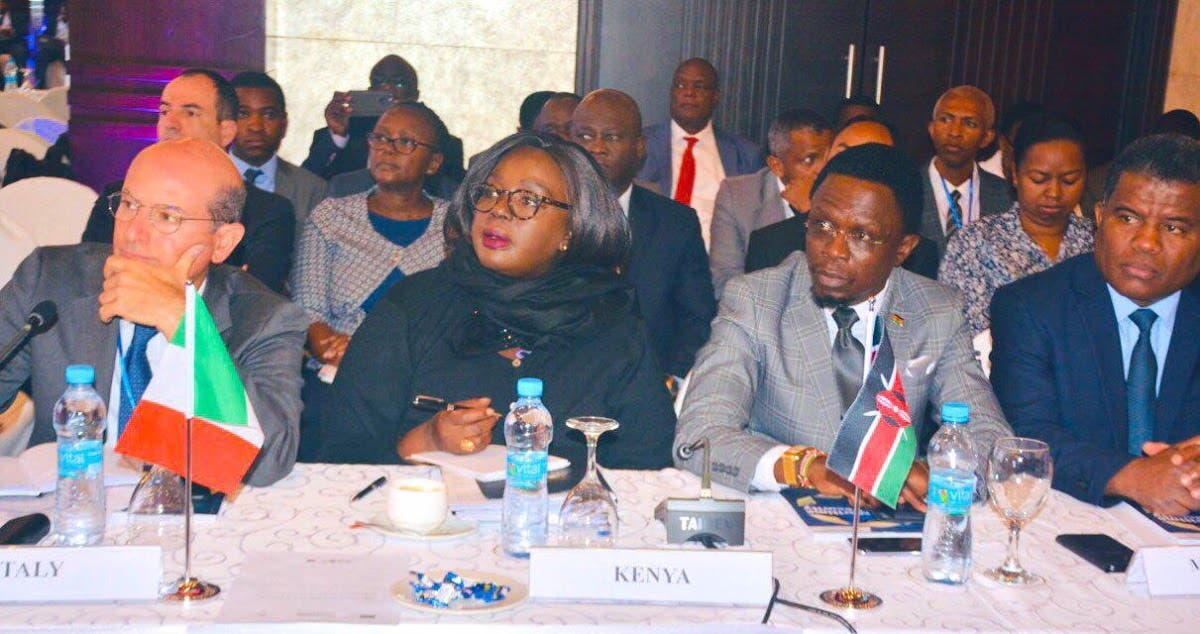 Nairobi (Caasimada Online) – Kenya ayaa madax looga dhigay kooxda xiriirka caalamiga ah ee qaabilsan burcad badeedda xeebaha Soomaaliya (Contact Group on Piracy off the Coast of Somalia (CGPCS), xilli ay xiisad kala dhaxeyo Soomaaliya.
Kenya ayaa hoggaamin doonta dadallada caalamiga ah ee ilaalinta xeebaha si dusha loogala socdo dhaqdhaqaaqyada amniga muddo laba sano ah oo ka billaabata bisha Janaayo ee 2020.
Go'aanka lagu soo doortay Kenya waxaa uu ka dambeeyay markii dalalka xubinta ka ah ururka la dagaallanka burcad badeeda ay shir ku qabteen magaalada Balaclava ee dalka Mauritius, sida uu bartiisa Facebook kusoo qoray Ababu Namwamba oo ah wasiirka ku-xigeenka arrimaha dibadda ee Kenya.
Wasiirka gaashaandhigga Kenya, Raychelle Omamo oo ka hadleysay kulanka ka dhacay Mauritius ayaa waxay sheegtay in Kenya ay ka caawin doonto dhammaan waddamada ka tirsan ururka xiriirka la dagaalanka burcad baddeeda (CGPCS) sidii lagu xaqiijin lahaa in laga dhabeeyo dadaallada caalamiga ah ee lagu wiiqayo dhaqdhaqaaqyada burcad baddeeda xeebaha Soomaaliya iyo sidii sare loogu qaadi lahaa amniga badaha iyadoo ay socdaan howlgallada lagu kormeerayo xeebaha.
Waxaa yaab leh in arrintan ay imaneyso xilli Kenya iyo Soomaaliya uu ka dhaxeeya muran xooggan oo ku saabsan dhul badeed ku yaala Koonfurta Soomaaliya.
Illaa iyo hadda ma cadda in dowladda Soomaaliya ay wax ka ogeyd go'aankan, iyo haddii ay isku dayday inay ka hor-tagto in Kenya madax looga dhigo guddigan, oo Kenya u suurta gelinaya inay ilaaliso xeebaha Soomaaliya.
Muranka dhanka badda ee u dhaxeeya dalalka Kenya iyo Soomaaliya ayaa in muddo ah soo jiitamayay, waxaana sannadkii 2015-tii ay dowladda Soomaaliya maxkamadda cadaaladda ee adduunka u gudbisay dacwad ka dhan ah Kenya.
Dacwad ku saabsan murankan ayaa hor taalla maxkamadda caalamiga ah ee caddaaladda (ICJ), taasoo laga dhuur sugayo iney dhageysato, ka dibna go'aan kasoo saarto.
Halkan ka daawo wararka oo muuqaal ah
Caasimada Online
Xafiiska Nairobi
caasimada@live.com