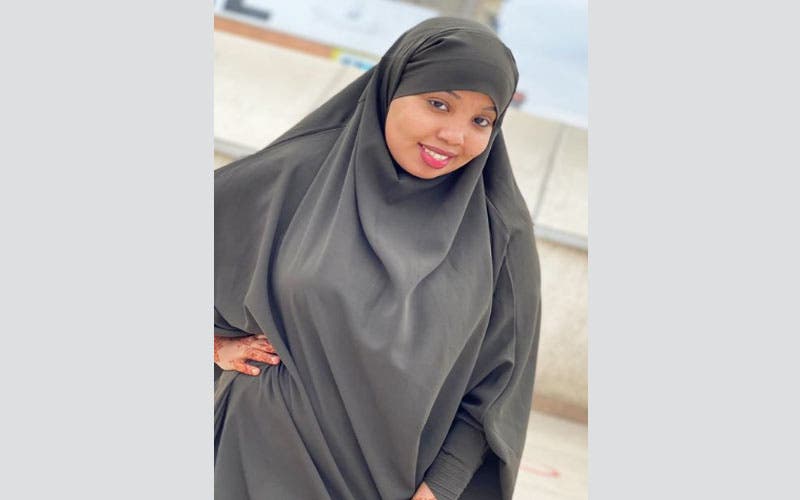 Nairobi (Caasimada Online) – Gabar 23 jir Soomaali ah oo laga afduubtay xaafadda California Estate ee magaalada Nairobi ayaa kooxda haysata waxay dalbadeen lacag madax furasho oo dhan Shan milyan oo shilling-ka Kenya ah, una dhiganta 46,000 oo dollar, sida uu weriyey wargeyska The Standard.  
Xafsa Maxamed Luqmaan ayaa Talaadadii 15-kii June laga waayey dukaan lagu iibiyo kabaha oo ay ku laheyd xarunta ganacsiga Kamukunj ee Islii. 
"Afduubtayaasha waxay markii ugu dambeysay noo soo direen farriin qoraal 16-kii bishan oo aheyd Arbacaduu, waxayna sheegeen inay doonayaan madax-furasho," waxaa sidaas wargeyska The Standard u sheegay Cumar Ibraahim oo ah dumaashiga Xafsa.
"Waxaan aad uga walaacsannahay inay waxyeelo u gaysan karaan," ayuu yiri. 
Muuqaallo ay duubeen kaamirooyinka qarsan ee dukaanka Xafsa ayaa muujiyey ayada oo dukaanka galeysa saacadda marka ay aheyd 4:44pm Talaadadii, ayada oo ay wehliso gabar kale oo magaceeda lagu sheegay Xafsa Cabdulwahaab.
Labada gabar ayaa durba u baxay deegaanka Kayole, ayada oo aan la ogeyn sababta. Waxaa hadda soo baxday in sidoo kale Xafsa Cabdulwahaab oo qare ku iibisa deegaanka Kayole iyana la'a yahay.
Galabkii Arbacadii, kooxda afduubka gaysataya ayaa soo dirtay muuqaal 35 ilbiriqsi ah oo muujinaya Xafsa Maxamed Luqmaan oo indhaha ka daboolan, gacmaha iyo lugahana laga xiray, ayada oo ay ka muuqdaan jir dil.
Xafsa ayaa la maqlayey ayada oo qoyskeeda ku leh "Waa ley afduubtay, waxayna dalbanayaan madax furasho, fadlan siiya."
Qoyska Xafsa Maxamed Luqmaan ayaa hadda dalbanaya in si deg deg ah loo soo faro-geliyo arrintan. Sidoo kale qoyska Xafsa Cabdulwahaab, ayaa iyagana booliska ka codsaday inay caawiyaan gabadhooda.