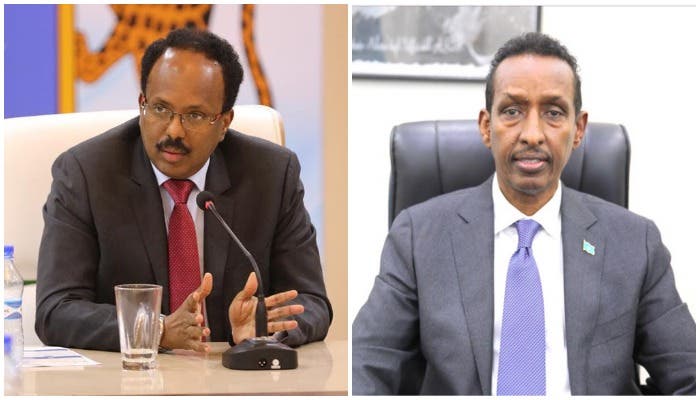 Nairobi (Caasimada Online) – Madaxweynaha Soomaaliya Maxamed Cabdullaahi Farmaajo iyo wasiirka arrimaha dibedda Axmed Ciise Cawad ayaa waxaa dhex-maray dood ka dhalatay go'aankii Kenya madax looga dhigay kooxda xiriirka caalamiga ah ee qaabilsan burcad badeedda xeebaha Soomaaliya (Contact Group on Piracy off the Coast of Somalia (CGPCS), xilli ay xiisad kala dhaxeyo Soomaaliya.
Kenya ayaa hoggaamin doonta dadallada caalamiga ah ee ilaalinta xeebaha si dusha loogala socdo dhaqdhaqaaqyada amniga muddo laba sano ah oo ka billaabata bisha Janaayo ee 2020.
Sida aan xogta ku helnay madaxweyne Farmaajo ayaa ku canaantay Cawad inuusan is hor-taagan in Kenya ay madax ka noqotay guddigan xilli labada dal uu ka dhex oogan yahay khilaaf ka dhashay sheegashada Kenya ee badda Soomaaliya.
Sida aan xogta ku helnay, haddii Soomaaliya ay diidmo ka dhan ah Kenya u gudbin lahayd hay'adda QM ee UNDOC, Kenya looma ogolaan lahayn inay madax ka noqoto kooxda Contact Group on Piracy off the Coast of Somalia (CGPCS), hase yeeshee waxaa shaqadaas gabay wasaaradda arrimaha dibedda Soomaaliya.
Ilaa iyo hadda ma cadda sababta Cawad uu uga aamusay arrintan. Xubnaha dowladda ee qaar ayaa aaminsan inay ahayd qalad uu wasiirka yareystay muhiimadda arrintan, halka qaar aaminsan yihiin inuu si ku talo-gal ah u sameeyey.
Cawad ayaa waxaa qoyskiisa ay degan yihiin Kenya, waxaana inta badan uu u safraa Naiorbi, isaga oo xitaa aan saddex beri oo isku xigta ka badan ku sugneyn Muqdisho, taasi oo shaki abuureysa.
Muranka dhanka badda ee u dhaxeeya dalalka Kenya iyo Soomaaliya ayaa in muddo ah soo jiitamayay, waxaana sannadkii 2015-tii ay dowladda Soomaaliya maxkamadda cadaaladda ee adduunka u gudbisay dacwad ka dhan ah Kenya.
Dacwad ku saabsan murankan ayaa hor taalla maxkamadda caalamiga ah ee caddaaladda (ICJ), taasoo laga dhuur sugayo iney dhageysato, ka dibna go'aan kasoo saarto.
Halkan ka daawo wararka oo muuqaal ah
Caasimada Online
Xafiiska Nairobi
caasimada@live.com