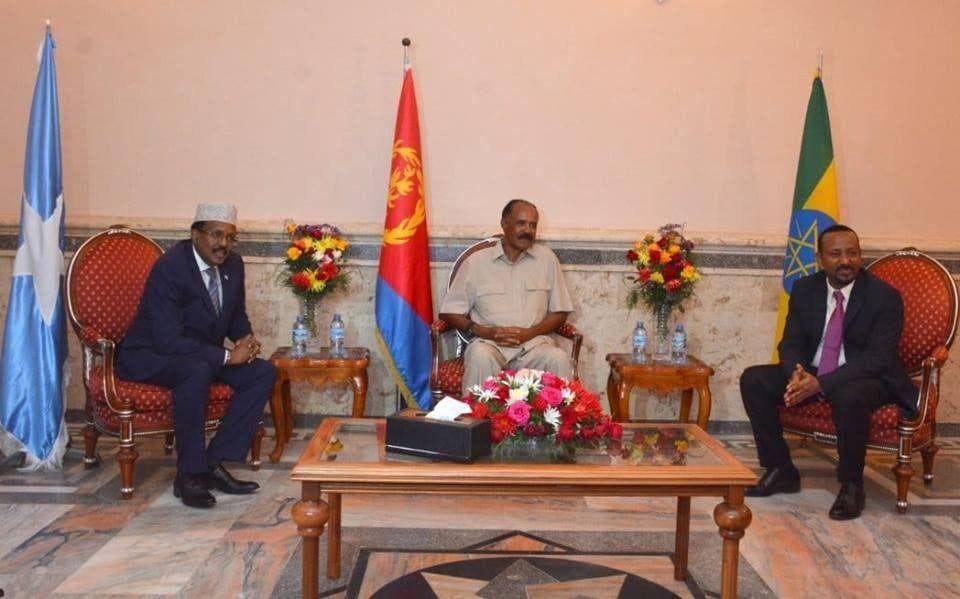 Muqdisho (Caasimada Online) – Ra'iisul wasaarihii hore ee Soomaaliya Cumar Cabdirashiid Cali Sharmaarke ayaa shaaca ka qaaday inuu jiro heshiis halis ah oo ay kala saxiixan doonaan Soomaaliya, Ethiopia iyo Eritrea, kaasi oo uu ku baaqay in fiiro gaar ah loo yeesho.
Cumar Cabdirashiid, oo ah senator ka tirsan Aqalka Sare, ayaa qoraal uu soo dhigay twitter-ka ku sheegay in heshiiskan oo ah mid amni iyo difaac la doonayo in dhowaan lagu saxiixo magaalada Addis-Ababa.
"Heshiiska amni/difaac ee la isla dhex-marayo ee u dhaxeeya Eritrea, Ethiopia iyo Soomaaliya waxa uu noqon karaa arrin khatar keeni karta oo u baahan in fiiro gaar ah loo yeesho. Sababtoo ah, si xun u adeegsiga aan dhammaadka lahayn ee waaxda amniga, waxay noqon doontaa arrin wallaac dhab ah leh, haddii dowladda federaalka ee waqtigeedu dhammaaday ay isku daydo in heshiis noocan ah ay ku saxiixdo Addis Ababa," ayuu yiri Cumar Cabdirashiid.
A rumored Security/Defense pact between Eritrea, Ethiopia and Somalia can be a risk factor that warrants attention. Because of endless misuse of the security sector, it would be matter of serious concern if the FGS, whose term has expired, tries to sign such pact in Addis Ababa

— Omar Sharmarke (@OmarSharmarke) March 30, 2021
Arrintan ayaa imaneysa ayada oo Caasimada Online ay shalay qortay in beesha caalamka ay ku cadaadineyso Farmaajo inuu baajiyo safarka Addi-Ababa, taas beddelkeedna uu heshiis la gaaro madaxda maamul goboleedyada dalka ee ku sugan Muqdisho.
Maxamed Farmaajo, Isais Afwerki iyo Abiy Ahmed ayaa saaxiibo iyo isbaheysi noqday wixii ka dambeeyey markii Abiy uu la wareegay talada Ethiopia bishii April ee 2018, waxaana dadka dhaliila ay sheegaan inay ku heshiiyeen inay isku gacan siiyaan inay saddexda dal awood ku maamulaan.
Afwerki waa kaligii-taliye sanado badan maamulayey Eritrea, Abiy inkasta oo uu hoggaanka yimid iyadoo loo han weyn yahay, haddana wuxuu xirxiray dhammaan mucaaradkii Oromada, isaga oo kadibna dagaal ku qaaday Tigray-ga. Farmaajo wuxuu awood ku muquuniyey oo uu xukunka uga tuuray saddex madaxweyne goboleed, isaga oo kadibna madax uga dhigay saddex isaga taabacsan, halka midkii afaraad oo ah Axmed Madoobe.
Astaamihii ugu horreeyey ee heshiiska ay isku gacan siinayaan saddexda hoggaamiye ayaa la arkay markii ciidamada Ethiopia ay Farmaajo ku gacan siiyeen in awoodda laga tuuro qaar ka mid ah madaxda maamul goboleedyada dalka, sida Koonfur Galbeed iyo Galmudug, kuna guul-darreystaan inay Kismaayo diyaarad ku galaan markii uu Axmed Madoobe ka war-helay.
Sidoo kale, ciidamada Eritrea ayaa Abiy Ahmed ku gacan siiyey dagaalkii gobolka Tigray, halkaasi oo ay hay'adaha caalamiga ah ee xuquuqda aadanaha ay sheegeen inay ka gaysteen tacaddiyo ay ka mid yihiin dil, kufsi, iyo jirdil. Kadib cadaadis caalami ah, Abiy ayaa toddobaadkii tegay Asmara, kana codsaday Afwerki inuu ciidamadiisa kala baxo halkaas, sida ugu dhaqsiyaha badan.