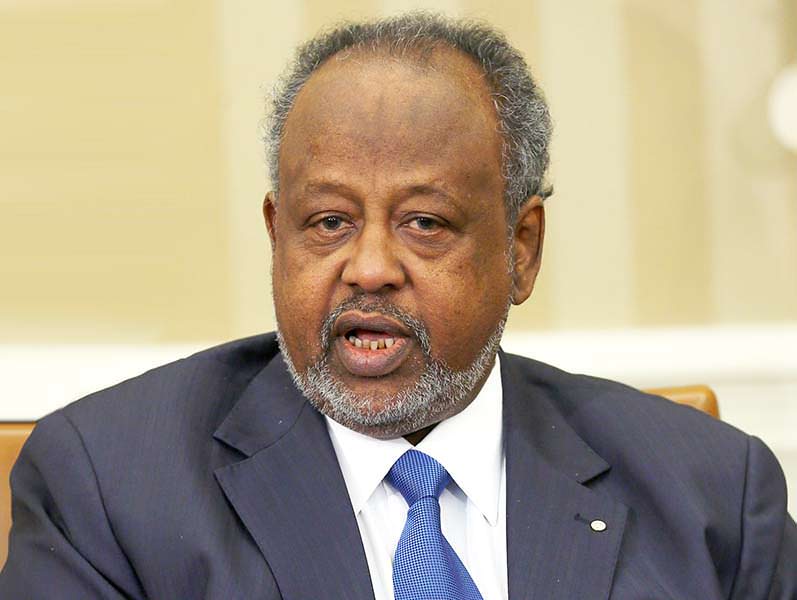 Jabuuti (Caasimada Online) – Madaxweynaha Jabuuti Ismaaciil Cumar Geelle ayaa si rasmi ah uga hadlay kulanka la filayo inay dalkiisa ku yeeshaan madaxweynaha Soomaaliya Maxamed Cabdullaahi Farmaajo iyo madaxweynaha Somaliland Muuse Biixi Cabdi.
Madaxweyne Geelle oo qoraal kooban soo dhigay bartiisa twitter-ka, ayaa sheegay in kulanka uu dhici doono berri, islamarkaana uu sidoo kale qeyb ka noqon doono ra'iisul wasaare Itoobiya Abiy Ahmed.
"Berri, waxaan dalka Jabuuti ku guddoomin doonaa kulanka madaxweyne Maxamed Cabdullaahi Farmaajo iyo madaxweyne Muuse Biixi Cabdi, si aan horey ugu sii wado dadaallada dhex-dhexaadinta labada hoggaamiye. Waxaan sidoo kale ku casuumay ra'iisul wasaare Abiy Ahmed inuu ka qeyb-galo wada-hadallada," ayuu yiri madaxweyne Geelle.
Tomorrow in Djibouti, I will chair a meeting between President Mohamed Abdullahi Farmajo and President Moussa Bihi Abdi to follow up on the mediation efforts between the two leaders. I have also invited Prime Minister Abiy Ahmed to attend the discussions.

— Ismail Omar Guelleh (@IsmailOguelleh) June 13, 2020
Madaxweyne Geelle ma bixin wax faah-faahin ah oo intaas dheer oo ku saabsan wada-hadallada. Si kastaba, xog aan helnay ayaa sheegeysa in wada-hadallada ay gadaal ka riixayso dowladda Mareykanka, waxaana sidoo kale qeyb ka ah Midowga Yurub.
Waxybaaha la filayo in kulanka ay kasoo baxaan ama heshiis looga gaaro, ayaa waxaa ka mid ah in dowladda federaalka ay dib u fasaxdo qeybo ka mid deeqdii beesha caalamka ay usoo marin jirtay Somaliland, oo muddo xayirneyd.
Soomaaliya iyo Somaliland ayaa dhowaanahan waxaa u socday wada-hadallo hoose, sida uu kulankii Golaha Ammaanka ka sheegay ergeyga QM James Swan oo xaqiijiyey in labada dhinac ay leeyihiin xiriir joogto ah.
"Marka ay noqoto xiriirka Soomaaliya iyo Somaliland, waxaa na dhiiri-gelinaya in wada-hadallo heer sare ay socdaan, islamarkaana labada dhinac ay muujiyeen inay ka go'an tahay inay joogteeyaan xiriirka ayna sii raadiyaan wada-xaajoodyo dheeraad ah," ayuu yiri James Swan.