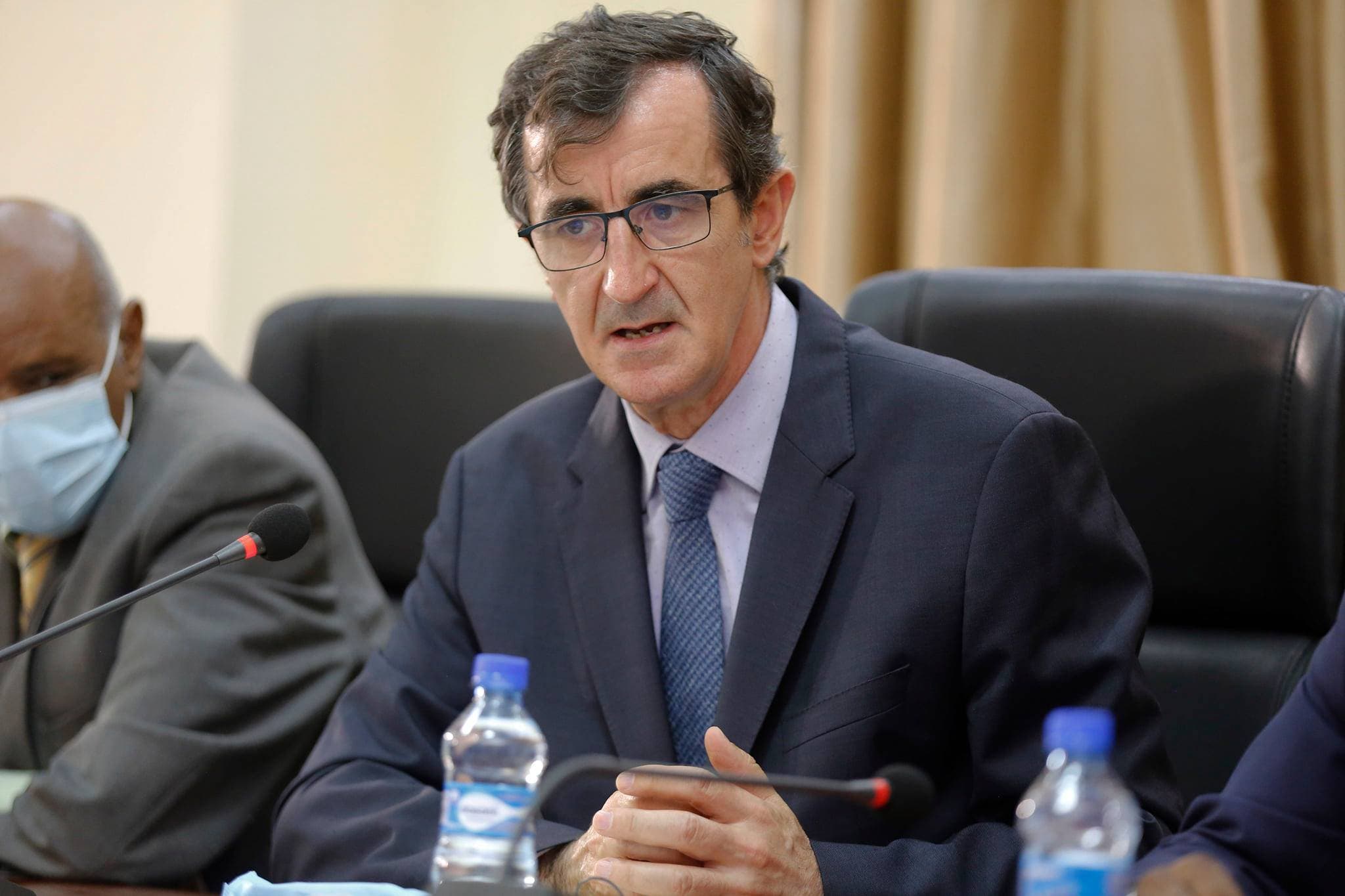 Muqdisho (Caasimada Online) – Ururka Midowga Yurub ayaa maanta dalbaday in ciidamada militariga laga saaro magaalada Muqdisho ee caasimadda Soomaaliya, ayada oo xiisaddii magaalada ka taagneyd ay yara qabowday.
Danjiraha Midowga Yurub ee Soomaaliya Nicolas Berlanga ayaa qoraal uu soo dhigay twitter ku yiri "In militariga laga saaro Muqdisho waa muhiimadda koowaad ee iminka. Dadka doonaya inay cayaaraan kaalin wanaagsan oo ku aadan doorashada waa inay ra'iisul wasaare Rooble ka taageeraan shaqadan muhiimka ah."
"In Muqdisho lagu kala qeybiyo maleeshiyo ama ciidamo amni oo leh talis ka baxsan qadka talis guud ma caawineyso shacabka Soomaaliyeed," ayuu yiri.
Demilitarise Mogadishu is the priority now. Those that want to play a positive role towards elections should support PM Roble in his key tasks. Division of Mogadishu with militias or out-of-line-of-command security forces is not helping Somali people

— Nicolas Berlanga (@NBerlangaEU) May 3, 2021
Magaalada Muqdisho ayaa waxaa ku wada sugan ciidamada dowladda iyo ciidamo kale oo dowladda ka tirsan balse ka horyimid muddo kororsiga madaxweyne Farmaajo iyo golaha shacabka ee laga laabtay Sabtidii, waxaana ra'iisul wasaare Rooble uu dalbaday in ciidamaas ay ka baxaan Muqdisho.
Hase yeeshee, ciidanka diidan muddo kororsiga oo hadda u muuqda inay toos ugu biireen ciidamada Midowga Musharaxiinta, ayaa waxaa kusii biiraya ciidamo hor leh oo kasoo goosanaya dhanka dowladda.
Taliye ku xigeenkii ciidanka booliiska gaarka ah ee Haramcad Muumin Ciise Maxamuud iyo ciidamo uu hoggaaminayo ayaa shalay ka goostay dowladda federaalka, iyagoo ku biiray ciidanka taabacsan mucaaradka ee la baxay Badbaado Qaran.
Arrintan ayaa aad uga carreysiisay dowladda oo xalay u digtay siyaasiyiin ay sheegtay inay Muqdisho ka wadaan kala-qeybinta iyo burburinta ciidamada.
Mucaaradka ayaa sheegay in weli aysan jirin wax la taaban karo oo ra'iisul wasaare uu sameeyey si loo aamino, sidaas darteed ay ciidankooda joogayaan Muqdisho illaa dalka uu doorasho ka aado, sababtoo ah ciidamo uu soo iro Farmaajo oo dhowr jeer weeraray qaar ka mid ah musharaxiinta, ayaga oo aan haysan difaac badan.