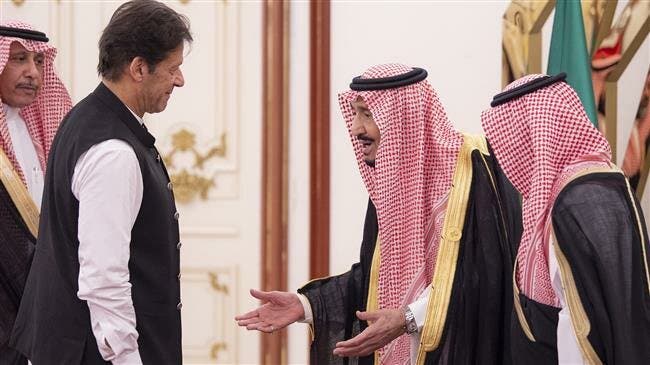 Makka Al-Mukarama (Caasimadda Online) – Dood culus ayaa ka dhalatay sida uu Ra'isulwasaraha dalka Pakistan Imran Khan ula macaamilay Boqorka Dalka Sacuudiga  Salman intii lagu guda jiray Xafladda kulankii ururka Iskaashiga Islaamka ee (OIC) ee ka dhacay Magaalada Barakeysan ee Makka Al-Mukaram.
Muuqaalo lagu faafiyey baraha Bulshada ayaa muujinayey Ra'isulwasaaraha Dalka Pakitan Khan oo ku  socdo Roog Cagaaran si uu ula kulmo Boqorka dalka Sacuudiga Salman, salaan kadib, Ra'isulwasaaraha Pakistaan ayaa la arkayey isagoo si toos ah ula hadlayo Turjumaankiisa halkii uu la hadli lahaa Boqorka Sacuudiga oo Hab maamuus ahaan ay aheyd inuu Boqorka la hadlo.
Ra'isulwaaraha Pakistan ayaa la arkayey isagoo ka dhaqaaqayo halkii uu Boqorka kula kulmay isagoo aan sugin wax jawaab ah iyo inuu Turjumaanka u fasiro hadalka uu boqorka ku dhahay taasoo ay Boqortooyada ku tilmaamtay inay aheyd ihaaneysi.
#ViDEO: #Saudi @KingSalman receives Pakistani PM @ImranKhanPTI at the venue of #IslamicSummit pic.twitter.com/LPd3BgOHOY

— Saudi Gazette (@Saudi_Gazette) May 31, 2019
Warbixino aan la xaqiijin ayaa sheegayo inay Sacuudiga dacwad heer sare ah u gudbisay Dowladda Pakistaan taasoo ka dhan ah Ra'isulwasaare Imran Khan oo lagu eedeeyey inuu galay fal dambiyeed ka dhan ah Hab maamuuska Xafladdii ka dhacday Makka Al-Mukarama.
Booqashada uu Ra'isulwasaaraha Pakistan ku tagay dalka Sacuudiga ayaa waxaa ka dhashay inay labada Dowladood kala saxiixdaan heshiisyo badan oo ku kacay illaa 20 Malyaar oo Dollar.
Kulankii ay Sacuudiga qaban qaabisay ee ka dhacay Magaalada Makka Al-Mukarama ayaa  ujeedkiisa wuxuu ahaa in lagu qalqal geliyo Dowladda Iiraan oo ay xurguf kala dhaxeyso Xulafada Sacuudiga iyo Imaaraadka Carabta.
Halkan ka daawo wararkii maanta oo muuqaal ah
Caasimada Online
Xafiiska Jeddah
Caasimada@live.com