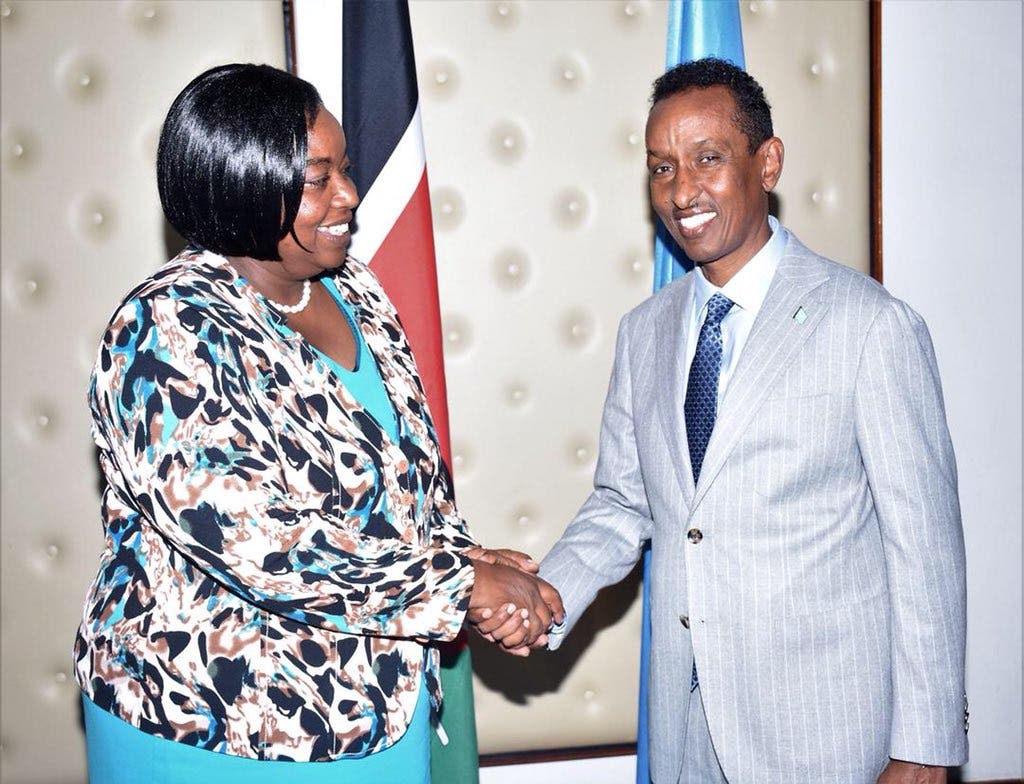 Nairobi (Caasimada Online) – Ayada oo dowladda Kenya ay qaadeyso tallaabooyin is xig-xiga oo ka dhan ah kuna cadaadineyso Soomaaliya, ayaa wasiirka arrimaha dibedda Soomaaliya Axmed Ciise Cawad waxa uu si la yaab leh u sheegay inaysan jirin xiisad weyn oo u dhaxeysa labada dal.
Cawad oo la hadlay wargeyska The Standard ee kasoo baxay Naiorbi, ayaa sheegay in aysan jirin wax muran diblomaasiyadeed oo weyn ah oo u dhaxeeya Soomaaliya iyo Kenya.
"Waxaa jiri kara is-faham darro kooban, balse ma rumeysni inuu noo dhaxeeyo muran diblomaasiyadeed oo weyn" ayuu wasiirka arrimaha dibedda Soomaaliya u sheegay wargeyska The Standard.
"Soomaaliya iyo Kenya waa laba dal oo saaxiibo ah kuwaas oo awooda inay ka gudbaan kana guuleystaan khilaafyo kasta oo jiri kara."
Cawad oo tusaaleenaya in xiriirka labada dal uu weli wanaagsan yahay ayaa sheegay in socdaal uu dhowaan Nairobi ku tagay ra'iisul wasaaraha Soomaaliya Xasan Cali Kheyre, islamarkaana kula kulmay madaxweyne Uhuru Kenyatta, ay dowladda Kenya ku ballan-qaaday 500 oo deeq waxbarasho ah oo ay siineyso Soomaaliya.
Deeqadaas, ayaa sida uu sheegay Soomaaliya loogu tababari doonaa dhaqaatiir, kal-kaaliyayaal, macallimiin iyo maamullo.
Wareysiga uu siiyey The Standard, ayuu si kastaba Cawad ku sheegay in Soomaaliya ay aad ula yaabtay go'aanka Kenya ay dib ugu soo rogtay hakadkii ay diyaaradaha ka imanaya Muqdisho ku sameyn jireen magaalada Wajeer.
Caasimada Online
Xafiiska Muqdisho
caasimada@live.com