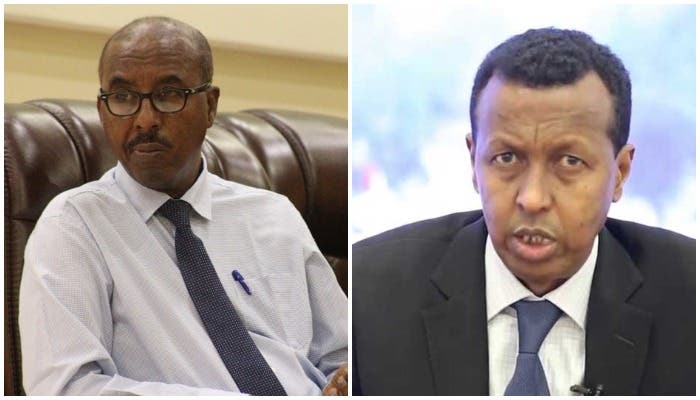 Muqdisho (Caasimada Online) – Qoraal uu Facebook shalay galab uu dagalkiisa soo dhigay Wasiirka Dastuurka ee Soomaaliya Cabdi Xoosh Jibriil ayaa sababay in ay isku maan dhaafaan Wasiirkii hore ee Arrimaha Dibedda Yusuf Garaad Cumar.
Xoosh oo ka falcelinayey  kulan dhexmaray laba ka mid ah musharixiinta xilka Madaxweyne ee Puntland Dr. Cali Ciise Cabdi iyo Cali Xaaji Warsame ayaa sida soo qoray isaga oo soo raaciyey sawirka labada musharax –
"Dr. Ali Isse Abdi ( seated on the left) is the best hope for the reconstitution of Puntland and Somalia in that order. He represents Leadership, Integrity and Intellect, demonstrated by his Pan-African economic leadership during 25 years of positive economic interventions that turned around the economies of many African countries. #IsooMareey!!."
MACNAHA
'Dr. Cali Ciise Cabdi (Fadhiya Middig) waa rejada ugu wanaagsan ee dib u dhiska Puntland iyo Soomaaliya sida ay isugu xigaan. Waxa  uu tusaale u yahay hoggaamin, qaaya soor iyo aqoon xeeldheer, waxa uu ku muujiyey hoggaamintiisii dhaqaalaha Pan-Africa 25kii sano ee uu faragalinta dhaqaale ee taban uu waday taas oo wax ka bedeshay dhaqaalaha wadamo badan oo Africa ah,#Isoomareey.
Intaa marka uu qoray, waxaa ka soo falceliyey asxaab badan oo musharaxa uu taageerada u muujiyey nasiib wacan u rejeeyey balse waxaa si lama filaan ah falcelin muran ka dhex abuurtay isaga Xoosh soo dhiibtay Yusuf Garaad Cumar.
WAA TAN QORAALKII FALCELINTA (Comment) ee Yusuf Garaad…..
"Mudane Cabdi Xoosh, waan qariyaa/keydsadaa aragtideyda ku saabsan hoggaanka Puntland maxaa yeelay waxaan leeyahay dhawr saaxiib iyo kuwo kale heerkaas ah [Inta aad ku sheegtay Dr Cali Ciise] oo loolamaya waxaana ka mid ah Dr. Cali Ciise. Maadama aan diidmadeyda sheegay, waxaan rejeynayaa taageerada aad [Cali Ciise] u muujisay in ay ku kooban tahay baaxadaada shaqsiyaded."
Waxaa isaga oo karaya oo caro/xanaaq la qarxi raba soo jawaabay Wasiir Cabdi Xoosh oo sidan yiri-
"Yusuf Garaad fadlan fiiri akoonka Twitter-keyga iyo Faceook waxa an si gaar ah ugu sheegay aragtiyada lagu muujiyo in aan aniga leeyahay oo aan loo aaneyn karin hay'ad kale oo aan meteli karo. Waan se kaa niyad jabay maxaa yeelay si gaar ah ayaad ila hadli kartay halkii aad si shaarac ah u smeyn lahayd. Hadda adiga sheekada keenaya taas waa jawaabteyda kama dambeysta ah.#Niyadjab!!@
Halkaa marka ay mareyso Yusus Garaad jawaab dambe ma soo bixin, ma garaneyno in hilfaha la'isugu sii laabay luuqooda!!
Caasimadda Online
Xafiiska Muqdisho
caasimada@live.com