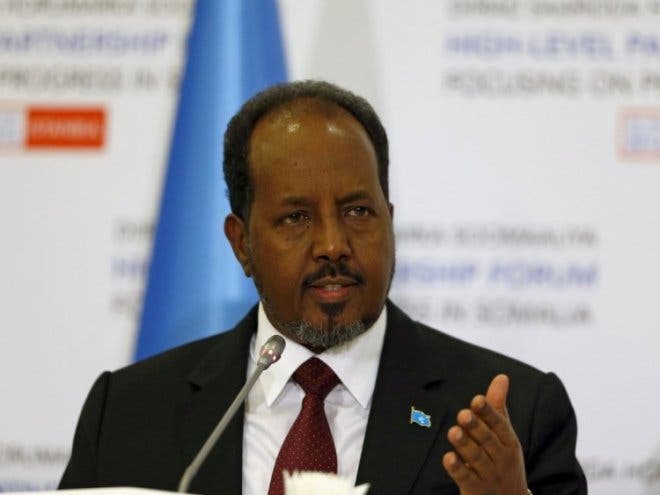 Muqdisho (Caasimada Online) – Madaxweynihii hore ee Somalia Xasan Sheekh Maxamuud ayaa loo doortay Guddoomiyaha Xisbiga lagu magacaabo Midowga Nabadda iyo Dimoqraadiyadda (Union For Peace and Democratic- UPD).
Munaasabad magaalada Muqdisho lagu qabtay ayuu Xasan Sheekh Maxamuud ka sheegay inuu ka mahadcelinaayo doorashada loo doortay Guddoomiyaha Xisbiga oo ah mid ku cusub saaxada Siyaasada.
Muuqaal lasoo dhigay Bogga Xasan Sheekh uu ku leeyahay Facebook, ayaa waxaa lagu muujiyay in Xasan uu yahay Hogaamiyaha Xisbiga.
Nuqul kamid ah haddalka Xasan ayaa ahaa "Waxan u mahad naqayaa Xubnaha Xisbiga Midowga Nabada iyo Dimuqraadiyadda oo maanta ii doortay Guddoomiyaha Xisbiga waxan Eebbe ka rajaynayaa in uu ii fududeeyo mas'uuliyadda culus ee laygu aaminay.
Xasan Sheekh waxa uu sheegay in kulamo waaweyn uu qabandoono Xisbiga, isla markaana ujeedka ugu weyn uu maanta ahaa in la hagaajiyo Dastuurka.
Xisbigan ayaa waxaa ku midoobey Xisbiga Daljir, Kutlada Horusocod oo ay ku jiraan Xildhibaanadii Qabyo iyo siyaasiyiin kale oo aad uga soo horjeeda Siyaasada Dowlada Somalia.
Ku dhawaaqida Xisbigan waxa uu imaanayaa xili la sheegay in Xasan Sheekh iyo xulafadiisa ay qaateen magaca Xisbi uu leeyahay Siyaasi Cabdullahi Sheekh Xasan oo kamid ah Golaha Wasiirada maamulka Koonfur Galbeed.
Xisbiga C/llaahi Sheekh Xasan ee sanado badan ka hor la aas aasay ayaa lagu magacaabaa  Midowga Nabadda iyo Dimoqraadiyadda Soomaaliyeed (Somali Peace and Democratic Union- SYPDU).
HOOS KA DAAWO KHUDBADA UU XUBNAHA XISBIGA U JEEDIYAY XASAN SHEEKH