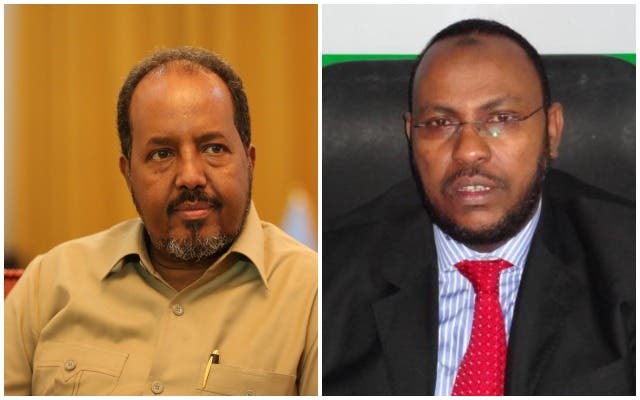 Muqdisho (Caasimada Online) – Sida aan wararkeena hore ku sheegnay waxaa lagu wadaa in Xisbi uu hoggaaminayo Madaxweynihii hore ee Soomaaliya Xasan Sheekh Maxamuud looga dhawaaqo magaalada Muqdisho ee caasimada Somalia.
Xisbiga cusub ayaa waxa uu qorshuhu yahay in lagu dhawaaqo maalinta Khamiista ee fooda nagu soo heysa waxaana soo baxaaya is qabqabsi Xisbiyeed oo ka dhashay magaca Xisbiga cusub ee Xasan Sheekh.
Is qabqabsiga Xisbiyeed ayaa soo shaac baxay kadib markii C/llaahi Sheekh Xasan oo Wasiir ka ah Maamulka Koofur Galbeed uu sheegay in magaca Xisbigiisa ay qaateen Xisbiga uu hoggaaminayo Madaxweynihii hore Xasan Sheekh Maxamuud.
Xisbiga uu sheegtay C/llaahi Sheekh Xasan inuu aas aastay 2011 ilaa 2012 ayaa lagu magacaabaa  Midowga Nabadda iyo Dimoqraadiyadda Soomaaliyeed (Somali Peace and Democratic Union- SYPDU), halka Xisbiga uu hoggaaminayo Xasan Sheekh lagu magacaabaa Midowga Nabadda iyo Dimoqraadiyadda (Union For Peace and Democratic- UPD) kaa oo isna lagu dhawaaqay 2018.
Mas'uuliyiin ka tirsan Xisbiga uu hoggaaminayo Xasan Sheekh ay dafiray in labada Xisbi ay isku magacyihiin isla markaana ay dadku yihiin kuwo isku khaldaaya.
Waxa uu sheegay in uusan ka mid aheyn Xisbiyada uu diiwaan geliyay Guddiga Madaxa Banaan ee Doorashooyinka Qaran, magacaabida Xisbigoodana uu yahay mid ay horay uga sii fikireen inta aanay ku dhawaaqin, si aanay u dhicin inay qaataan magacyo ka mid Xisbiyada la diiwaan geliyay.
Marka la'eego magacyada labada Xisbi ayaa ah kuwo isku eg, waxaana muuqaneysa in Xasan Sheekh Maxamuud iyo garabkiisa ay afduubteen magaca Xisbiga C/llaahi Sheekh Xasan oo Wasiir ka ah Maamulka Koofur Galbeed.
Dowlada Somalia ayaa sidoo kale fursad u arkeysa inay ku duulaan tagto in magaca Xisbiga cusub horay loo diiwaan galiyay isla markaana aysan suuroobi Karin in mar kale ay Koox kale isticmaasho.
Si kastaba ha ahaatee, is qabqabsiga Xisbiyadeed ee ka bilowday Muqdisho ayaa mugdi galinkara badqabka Xisbiyada kale ee horay loo diiwaan galiyay, iyadoo ay cabsi dhanka magaca ah lasoo daristay madaxda kale ee Xisbiyada.