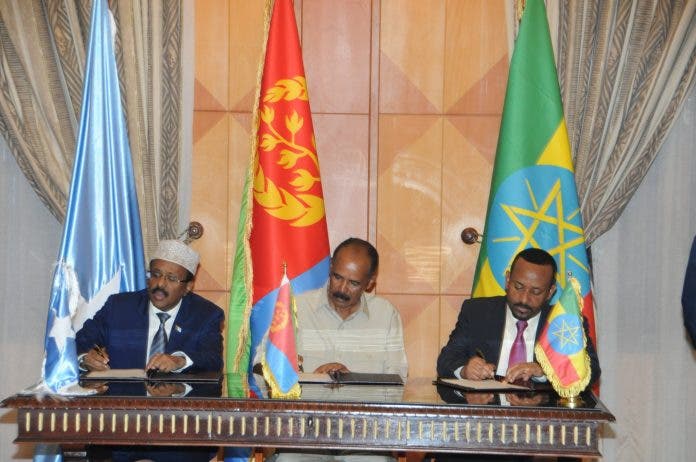 Muqdisho (Caasimada Online) – Wargeyska The Star ee kasoo baxa magaalada Nairobi ee dalka Kenya ayaa baahiyay warbixin uu kaga hadlayo in danaha dowladda Kenya ee Soomaaliya uu halis sii galayo, islamarkaana ay ugu wacan tahay dowladda Soomaaliya.
Maqaal dheer oo uu wargeyska The Star kaga hadlay xiisadda cusub ayaa wuxuu si qoto dheer kaga hadlay hardanka dowladda Soomaaliya iyo dowladda Kenya ee la xiriira cidda maamuleysa Jubbaland.
Wargeyska The Star ayaa baahiyay in taliye ku xigeenka NISA Fahad Yaasiin oo heysta Baasaboorka dalka Kenya uu wadahadal kula jiray bilihii ugu dambeeyay masuuliyiin ka tirsan dowladaha Ethiopia iyo Eritrea.
Ujeedada Kulankaasi ayaa wargeyska wuxuu ku sheegay inay tahay in ciidamo ka socdo labada dowladood oo aan ka mid aheyn AMISOM lagu wareejiyo amaanka garoonka diyaaradaha iyo dekadda magaalada Kismaayo, sida wargeyska uu qoray.
Wargeyska ayaa sheegay in Madaxtooyada Soomaaliya oo uu ugu sarreeyo Madaxweyne Maxamed Cabdulaahi Farmaajo ay doonayaan in Ciidamada Burundi, Uganda iyo Kenya isaga baxaan AMISOM, islamarkaana Maamulka Jubaland loo dhiibo qof aan ahayn Axmed Madoobe oo xulafo dhow la ah Kenya.
Madaxweynaha Soomaaliya, Taliye ku xigeenka NISA, saraakiil ka tirsan NISA oo kala ah Cabdullahi Kulane iyo Zakariye Ismaaciil ayuu Wargeysku sheegay in ay ka shaqeynayaan sidii Jubaland looga saari lahaa Kenya.
Dhinaca kale Wargeyska ayaa sheegay in Itoobiya oo ka faa'ideysaneysa fursad ay ku heli karto Dekadda Kismaayo ay aqbashay go'aankan.
Marka la yimaado warbixinta uu wargeyska qoray ma jiro cadeymo kale oo arintaan muujinaya inay socdaan qorshahaasi, waxaana laga yaabaa inay qeyb ka tahay dagaalka dowladda Kenya ee dhanka warbaahinta ku heyso dowladda Soomaaliya.
Caasimada Online
Xafiiska Nairobi
Caasimada@live.com