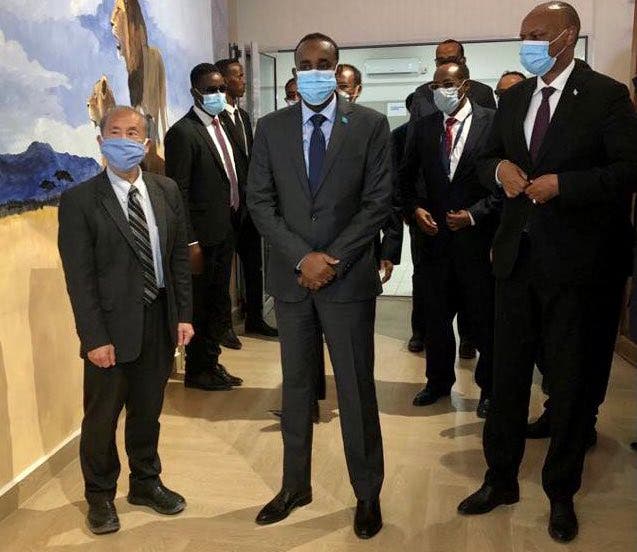 Muqdisho (Caasimada Online) – Qoraal kooban oo ka soo baxay safaaradda Mareykanka ee Soomaaliya ayaa lagu shaaciyey is afgarad la xiriira qabashada doorashada oo maanta dhex maray ra'iisul wasaaraha cusub ee Soomaaliya Maxamed Xuseen Rooble iyo safiirka Mareykanka Donald Yamamoto.
Ugu horeyn qoraalka ayaa lagu sheegay in safaaradda Mareykanku ay mar kale  Ra'iisul wasaaraha ugu hambalyeyneyso xaqiijintiisa maanta soo idlaatay ee xilka ra'iisul wasaaraha dalka.
"Waxaan ku faraxsanahay inaan u hambalyeeyo Maxamed Xuseen Rooble markii loo xaqiijiyey inuu yahay Ra'iisul wasaaraha Soomaaliya."
Sidoo kale qoraalkan ka soo baxay safaaradda Mareykanka ee Soomaaliya ayaa intaasi ku sii daray, "Waxaan maanta isku afgaranay [ra'iisul wasaaraha] ahmiyada ay leedahay in waqtigeeda lagu fuliyo heshiiskii doorashada, maamul wanaagga, iyo sii wadida dib u habeynta dhaqaalaha iyo amniga."
Delighted to congratulate @MohamedHRoble on his confirmation as #Somalia's @SomaliPM. We agreed today on the importance of timely implementation of the election agreement, good governance, and continued economic and security reform. pic.twitter.com/GI262czugq

— U.S. Embassy Mogadishu, Somalia (@US2SOMALIA) September 27, 2020
Bayaankan kooban ee ka soo baxay safaaradda Mareykanka ee Muqdisho ayaa ku soo aadaya iyadoo maanta uu ra'iisul wasaare Maxamed Xuseen Rooble si rasmi ah xilkiisa ula wareegay.
Rooble ayaa xilkaan loo dhaariyey Arbacadii lasoo dhaafay, kadib markii uu codka kalsoonida ka helay xildhibaanada golaha shacabka ee baarlamaanka Soomaaliya.
Ra'iisul wasaare Rooble ayaa xafladii xil-wareejinta ka shacaaiyey lix arrimood uu mudnaanta koowaad siin doono, isla markaana ay xukuumadiisa cusub ay ka dhabeyn doonto.
Waxa uu khudbadiisa ku xusay in arrimaha Amniga, Doorashooyinka, Horumarinta Dhaqaalaha, Caddaaladda iyo Adeegga Bulshada, ay yihiin arrimaha ugu muhiimsan ee xiligan ay xooga saari doonto xukuumadda uu hogaaminayo.t