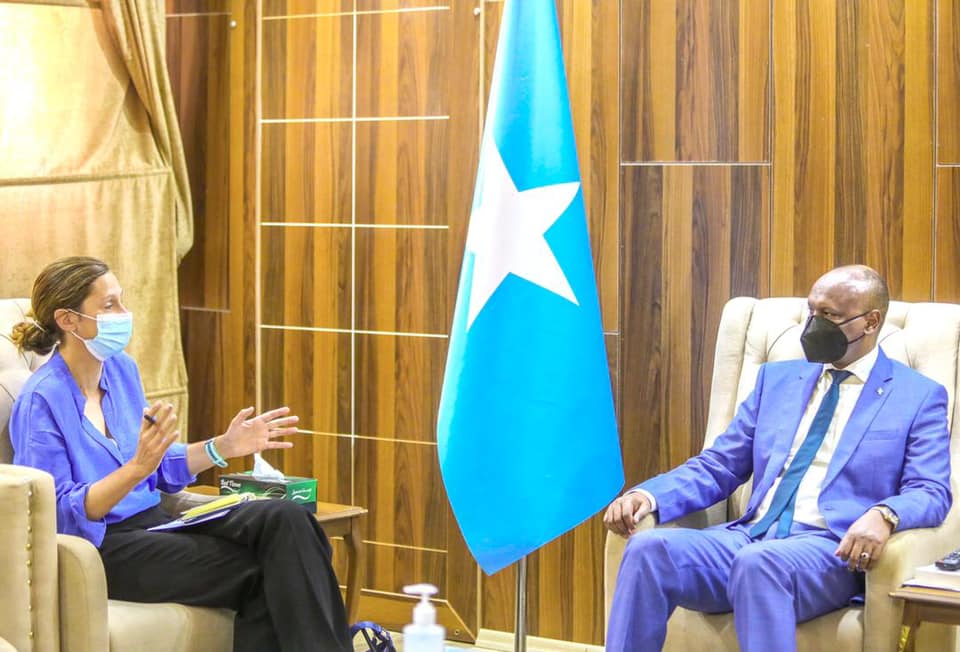 Muqdisho (Caasimada Online) – Danjiraha UK ee Soomaaliya Kate Foster ayaa iska fogeysay warar ay xukuumadda xil-gaarsiinta ka faafisay kulan ay maanta la qaadatay Sii-hayaha ra'iisal wasaare ku-xigeenka dalka, Mahdi Guuleed.
Afhayeenka xukuumadda Maxamed Ibraahim Macalimu ayaa qoraal uu ka baahiyay kulankii Kate Foster iyo Mahdi Guuleed ku sheegay mid looga wada-hadalay xoojinta iskaashiga labada dhinac, gaar ahaan dhaqaalaha iyo amniga.
Daqiiqado kadib Danjiraha UK ayaa ka fal-celiyay hadalkaas, kaasi oo u muuqday mid lagu maran-habaabinayo ujeedka dhabta ah ee kulanka maanta dhex-maray Mahdi Guuleed iyo Kate Foster.
Kate Foster ayaa sheegtay inay Mahdi Guuleed kala hadashay mowqifka diidmada UK ee ku aadan qaraarka uu Golaha Shacabka ugu sameeyay muddo kordhinta madaxweynaha waqtigiisu dhamaaday iyo hay'addaha kale ee dowladda.
"Kulan wax ku ool ayaa maanta yeelanay Mahdi Guuleed, kaas oo aan uga wada-hadalnay xaaladda siyaasadeed ee haatan taagan. Waxaan u xaqiijiyey in dowladda UK aysan taageeri doonnin muddo kordhinta loo sameeyay Farmaajo," ayey tiri Kate Foster oo jawaab ka bixisay qoraal uu Afhayeenka xukuumadda xil-gaarsiinta ah uu ku baahiyey bartiisa twitter-ka.
Sidoo kale waxay sheegtay Kate Foster intii uu socday kulanka ay la qaadatay Mahdi Guuleed inay ku adkeysay muhiimada ay leedahay in si deg-deg ah loogu laabto 'qaab doorasho oo ku saleysan is af-garad', islamarkaana ay madaxdu dib ugu laabtaan wada-hadaladii fashilmay.
Constructive meeting with @KhadarGulaid discussing current political situation. Reaffirmed that the UK 🇬🇧 will not support term extensions. Emphasised the importance of an urgent return to a consensus-based electoral model. https://t.co/mloMdoMdOf

— Kate Foster (@KFosterFCDO) April 18, 2021
Kulankaan ayaa qeyb ka ah kulamo ay dalalka beesha caalamka cadaadis xoogan ku saarayso madaxda dowladda waqtigeedu dhamaaday, tan iyo markii uu golaha shacabka meel-mariyay qaraar uu xukunka labo sanno ugu sii dheereynayo Farmaajo.
Dowladda muddo xileedkeedu dhamaaday ayaa maalmihii dambe waday maran-habaabinta ujeedka dhabta ah ee kulamada ay la qaadato dalalka beesha caalamka, xili ay wajaheyso cadaadisyo dib looga laabanayo go'aankii golaha shacabka, ayada oo lagu goodiyay madaxda sarre inay wajahi doonaan cawaaqib xumada tallaabadaas.