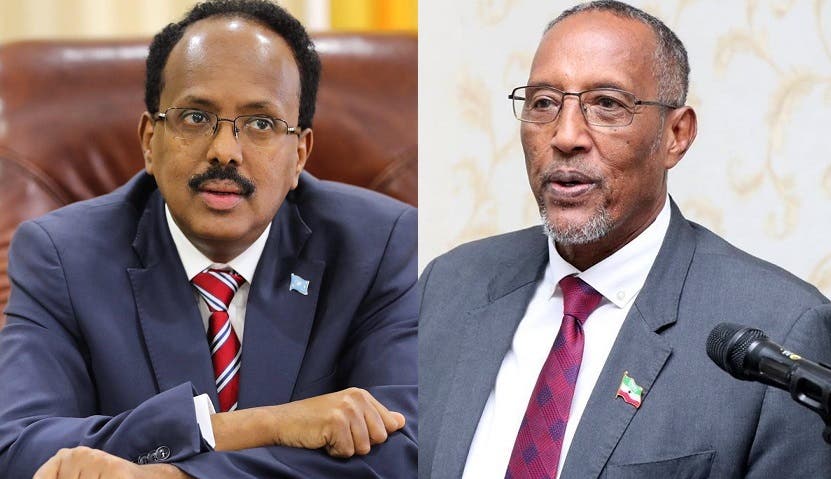 Hargeysa (Caasimada Online) – Ra'iisal wasaaraha Itoobiya, Abiy Axmed ayaa muddooyinkii dambe waday qorshayaal iyo dadaalo uu ku rabay inuu ku dhex-dhexaadiyo Madaxweynayaasha Soomaaliya iyo Somaliland, kuwaasi oo ugu dambeyntiina ku dambeeyay fashil, sida uu shaaciyay wargeyska The Reporter.
Wargeyska The Reporter ee kasoo baxa caasimada dalka Itoobiya ee Addis Ababa, ayaa qoray in dadaaladii Abiy ay fashilmeen, xili ay ka caga jiidayaan labada dhinac inay si toos ah isugu yimaadaan miiska wada-hadalka.
Wargeyska ayaa xusay in maalmihii u dambeeyay Madaxda Soomaaliya iyo Somaliland ay hawada isku marinayeen hadalo kulul, midaasi oo uu ku tilmaamay bilowga fashilka qorshaha Abiy ee isku soo dhaweynta labada dhinac.
The Reporter ayaa xiisada ka dhex oogan Dowladda federaalka iyo Somaliland ku macneeyay kuwo god madow kusii ridaya rajada laga lahaa inay wada-hadlaan, taasi oo meesha ka saareysa rabitaanka Itoobiya ee uu hogaaminayo Abiy Axmed.
Sidoo kale waxa uu Wargeysku si cad u sheegay in labada dhinac ay gebi ahaanba diideen inay yeeshaan kulan, midkaasi oo gogol xaadh u noqon laheyd inay dib u furmaan wada-hadalada mudada badan hakadka ku jira.
Abiy Axmed ayaa muddooyinkii dambe waday qorshayaal cusub oo ku wajahayo dib u furista wada-hadaladaasi, isagoo gacan ka helaya safiirka Mareykanka ee Soomaaliya, kaasi oo ka dhan ahaa madax-banaanida ay ku doodo Somaliland.
"Bilihii u dambeeyay Soomaaliya iyo Somaliland waxay is dhaafsanayeen hadalo kulul, dhexdhexaadintii Abiye Axmed uu sameeyayna way fashilantay" ayaa lagu yiri warbixinta Wargeyska.
Wuxuuna intaasi sii raaciyey "Labada dhinacba (Soomaaliya iyo Somaliland) waxay diideen inay si toos ah isu arkaan oo ay kulan yeeshaan".
Xiisada siyaasadeed ee ka dhex aloosan Soomaaliya iyo Somaliland ayaa u muuqata mid sii fogeynaysa inay madaxda labada dhinac iskugu yimaadan miiska wada-hadalka.