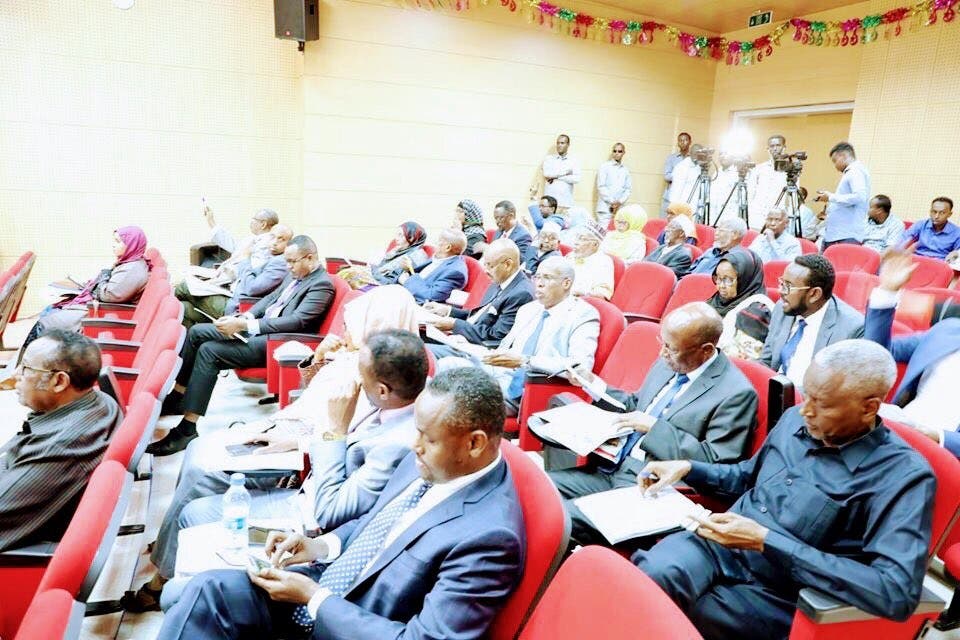 Muqdisho (Caasimada Online) – Aqalka sare ee baarlamanka Soomaaliya ayaa maanta ansixiyey Sharciga Batroolka dalka oo muhiim u ah Soomaaliya, si ay usoo saarato kheyraadka shidaalka ee la rumeysan yahay inuu dalka ku jiro.
Sharcigan ayaa waxaa sidoo kale horey u ansixiyey Golaha Shacabka, 20-kii May 2019, wuxuuna hadda u baahan yahay kaliya saxiixa madaxweyne Farmaajo, si uu u dhaqan galo.
Wasiirka ku xigeenka batroolka iyo macdanta Soomaaliya Maxamuud Cabdulqaadir Hilaal ayaa bogaadiyey tallaabada Aqalka Sare, oo uu ku qeexay mid bog cusub u furtay Soomaaliya.
"Senate-ka Soomaaliya ayaa ansixiyey sharciga batroolka Soomaaliya. Sharci muhiim u ah oo looga dan leeyahay inuu dalkeena barwaaqoobo, oo uu noqdo mid guul kasoo hooya qeybta saliida iyo shidaalka. Waa mahadsan yihiin xubnaha Senate-ka, bog cusub ayaad u furteen Soomaaliya." Ayuu Hilaal ku yiri qoraal uu soo dhgay twitter-ka.
Somali #Senate passes Somali Petroleum #Law.A very important Law aimed our Country begin to be prosper and successful in Oil&Gas sector.
Thanks Senate members, you open new page for Somalia. pic.twitter.com/hOJfd7zKls

— Mohamud Abdikadir Hilaal (@MohamudHilaal) January 6, 2020
Sharciga ayaa dejinaya xeerarka maamul iyo maaliyadeed ee dowladda u ogolaanaya inay ugu dambeyn sahmiso shidaalka iyo gaaska loo maleynayo inuu ku jiro xeebaha Soomaaliya.
Waxaa la rumeysan yahay in 30 bilyan oo barmiil oo shidaal ah ay ku jiraan xeebaha Soomaaliya, taasi  oo haddii ay run noqoto, gebi ahaan beddeli doonta mustaqbalka Soomaaliya.
Si kastaba, sharcigan ayaa waxaa horey u diiday maamul goboleedyada dalka oo ku dooday inaan la tashi iyo kaalin laga siin.