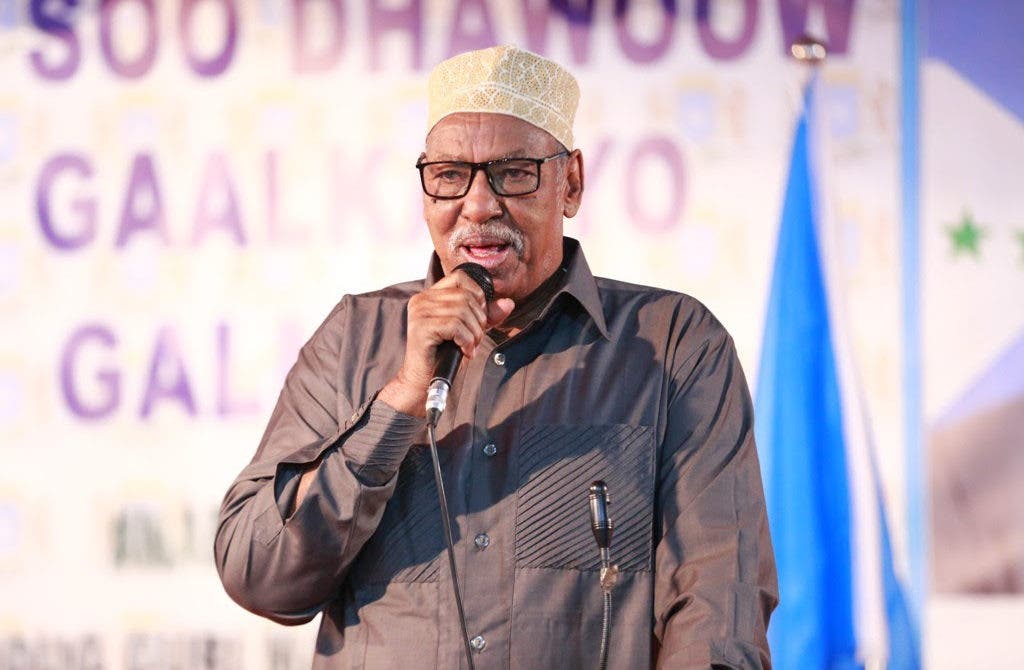 Nairobi (Caasimada Online) – Madaxweynaha Galmudug Axmed Ducaale Geelle Xaaf ayaa ku baaqay wada-hadal dhex-mara Kenya iyo Soomaaliya, si xal looga gaaro xiisadda ka dhex oogan labada dal ee ka dhalatay badda Soomaaliya ee Kenya ay sheeganeyso.
Xaaf ayaa madaxweynaha Soomaaliya, Maxamed Cabdullaahi Farmaajo ku eedeeyey gef siyaasadeed iyo fidinta akhbaar aan sax ahayn, taasi oo sababtay inuu xumaado xiriirka Soomaaliya iyo dalalka deriska la ah, sida uu sheegay.
Bayaan kasoo baxay Xaaf oo uu baahiyey wargeyska The Standard ee Kenya ayuu ku eedeeyey dowladda madaxweyne Farmaajo inay halis ku tahay xiriirka muddada soo jiray ee Kenya iyo Soomaaliya, ayada oo sida uu sheegay ku howlan "ballan-qaadyo siyaasadeed oo qiyaano ah, iyo faafinta akhbaaraad aan sax ahayn."
Bayaanka ayaa sidoo kale ku eedeeyey madaxweyne Farmaajo iyo ra'iisul wasaare Kheyre "dhaqan siyaasadeed xun oo aan meel loo raaco lahayn".
Xaaf ayaa sheegay in madaxweyne Farmaajo uu ku cayaaray "kalsoonidii hogaamiyayaasha dalalka deriska la ah Soomaaliya, ee ku howlan sidii xasolooni loogu soo dabaali lahaa Soomaaliya."
Hadalka kasoo baxay Xaaf ee uu baahiyey wargeyska The Standard ayaa ah mid aan caadi ahayn, oo aan la fileyn maadaama Soomaaliya horey u diiday inay wada-hadal ka gasho badeedda, taasi oo ah waxa ay raadineyso Kenya oo rumeysan in looga adkaan doono dacwada badda.
Sidoo kale, waxaa yaab leh in Xaaf uu madaxda Soomaalida ku weeraro loolanka kala dhaxeeya dalalka kale, ee cadowga loo arko inkasta oo ay jirto in khilaaf siyaasadeed u dhaxeeya Xaaf iyo dowladda dhexe.
Caasimada Online
Xafiiska Muqdisho
caasimada@live.com