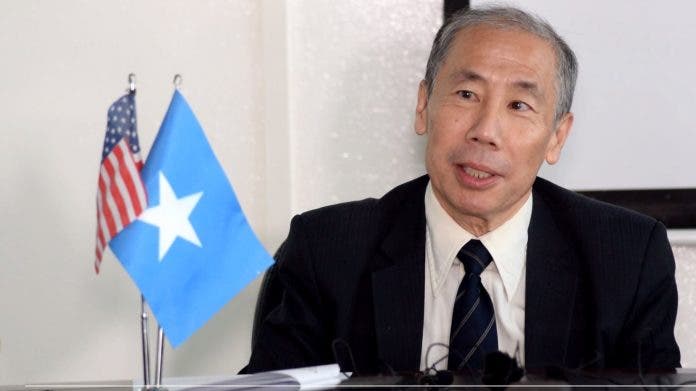 Jabuuti (Caasimadda Online) – Dowladda Mareykanka ayaa ka hadashay shirka Maanta magaalada Jabuuti uga furmay Dowladda Soomaaliya iyo Maamulka Somaliland kadib muddo badan oo uu hakad ku jiray wada-hadallada labada dhinac.
Qoraal ay soo saartay Safaaradda Mareykanka ee Muqdisho ayaa lagu sheegay in Dowladda Mareykanka ay soo dhaweeneyso wada-hadalka Maanta u furmay Madaxweyne Maxamed Cabdullaahi Farmaajo iyo Madaxweyne Muuse Biixi Cabdi, shirkaas oo uu shir guddoomin doono madaxweynaha Jabuuti ismaaciil Cumar Geelle.
Dowladda Mareykanka ayaa Madaxweynaha Jabuuti uga mahad-celisay dadaalka uu ku bixiyey kulankan, waxaana sidoo kale qoraalka lagu bogaadiyey Madaxweyne Farmaajo iyo Madaxweyne Muuse Biixi.
"Safaarada Mareykanka ee Muqdisho ayaa waxaa ay soo dhaweyneysaa furitaanka wada-hadalka Somalia iyo Somaliland ee Jabuuti. Waxaan amaaneynaa hoggaanka Madaxweyne Maxamed Cabdullaahi Farmaajo iyo Madaxweyne Muuse Biixi Cabdi,  waxaa mahad leh Madaxweyne Ismael Cumar Geelle oo marti geliyay kulan taariikhi ah," ayaa lagu yiri Qoraalka Safaaradda Mareykanka.
@US2SOMALIA welcomes opening of #Somalia– #Somaliland talks today in #Djibouti. We commend the leadership of @M_Farmaajo & @Musebiihi. T/Y @IsmailOguelleh for hosting a historic mtg. We support coop for the good of the #Somali people & urge all Somalis to be part of the process.

— U.S. Embassy Mogadishu, Somalia (@US2SOMALIA) June 14, 2020
Ugu dambeyn Qoraalka ayaa waxaa lagu cadeeyay in Mareykanka uu taageerayo iskaashiga wanaagsan ee dhexmara dadka Soomaaliyeed, waxaana  dhammaan dadka Soomaaliyeed loogu baaqay inay qayb ka noqdaan hanaankan.
Wafiyada Soomaaliya iyo Somaliland ayaa gaaray dalka Jabuuti, sidoo kalana waxaa halkaas isna ka dagay Ra'isul wasaaraha Itoobiya Abiy Ahmed oo wadahadalka qeyb ka noqon doono, waxaana la filayaa in gelinka dambe ee Maanta uu kulanka furmo.
Bishii February ee sanadkan ayey Farmaajo iyo Biixi si kooban ugu kulmeen magaalada Addis Ababa, laakin sii ambaqaadista wadahadallada labada dhinac ayaa in muddo ahba hakad ku jiray.
Soomaaliya iyo Somaliland ayaa wixii markaas ka dambeeyey waxaa u socday wada-hadallo hoose, sida uu kulankii Golaha Ammaanka ka sheegay ergeyga QM James Swan oo xaqiijiyey in labada dhinac ay leeyihiin xiriir joogto ah.
"Marka ay noqoto xiriirka Soomaaliya iyo Somaliland, waxaa na dhiiri-gelinaya in wada-hadallo heer sare ay socdaan, islamarkaana labada dhinac ay muujiyeen inay ka go'an tahay inay joogteeyaan xiriirka ayna sii raadiyaan wada-xaajoodyo dheeraad ah," ayuu yiri James Swan.