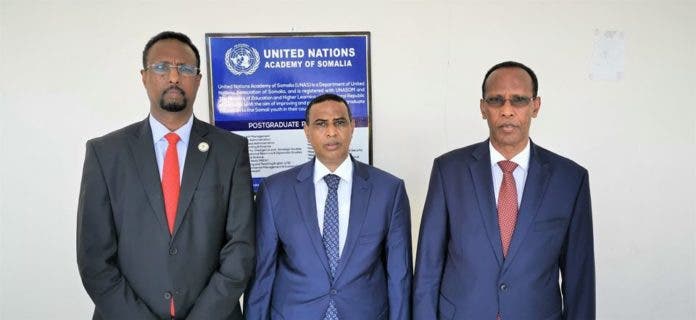 Muqdisho (Caasimada Online) – Warsaxaafadeed ka soo baxay xafiiska Qaramada Midoobay u qaabilsan arrimaha Soomaaliya ayaa waxaa si faah faahsan looga hadlay arrimo ku aadan Jaamacad la magac baxday United Nations Academy of Somalia, taas oo uu hoggaamiyo ra'iisul Wasaarihii hore ee Soomaaliya, Mudane Cali Maxamed Geedi.
Jaamacaddan oo hab Online wax looga barto ayaa waxaa horey magaalada Muqdisho ee caasimadda Soomaaliya uga dhaawaaqay Geedi, iyada oo ay iska diiwaan-geliyeen arday fara badan, kuwaas oo ka bilaabay heerka labaad ee waxbarashada Jaamacadda.,
Qoraalka Qaramada Midoobay ka soo baxay ayaa waxaa lagu beeniyey diwaan-gelinta & Sharciyadsiinta Jaamacadda United Nations Academy of Somalia oo loo soo gaabiyo UNAS.
Sidoo kale waxaa qoraalka lagu sheegay wax xariir ah jaamacaddu aysan la-laheyn Qaramada Midoobay.
Ugu dambeyn Qaramada Midoobay ayaa shaacisay inay dacwad sharci ah la tiigasan doonto UNAS, taas oo ah in ay joojiso adeegsigaasi.
Halkaan hoose ka aqriso:
Iyadoo laga jawaabayo weydiimo, Qaramada Midoobay ee Soomaaliya waxay dooneysaa inay caddeyso inuusan jirin wax xiriir ah oo ka dhexeeya Ururka Qaramada Midoobay iyo waxa loogu yeero 'United Nations Academy of Somalia (UNAS).'
Adeegsiga sharciga ah ee magaca iyo astaanta Qaramada Midoobay kaliya waxaa lagu heli karaa kaddib marka la maro hannaan adag oo codsi ah oo u baahan oggolaansho qoraal ah oo ka yimaada Xoghayaha Guud ee Qaramada Midoobay.
'UNAS' ma codsan mana helin rukhsad ay ku isticmaasho magaca QM ama astaanta. Oggolaansho weligiis ma siinin Xoghayaha Guud arrin laga leeyahay u jeeddooyin ganacsi oo gaar ah, sida nooca ay ku howlgashay UNAS.
Qaramada Midoobay ee Soomaaliya waxa ay xiriir la sameysay 'UNAS,' mas'uuliyiinta Soomaaliya iyo shabakadaha caalamiga ah oo ay quseyso ee dhanka Internet-ka iyo hay'adaha warbaahinta bulshada oo ay ku wargalisay arrintaa ku saabsan adeegsiga aan sharciga aheyn ee magaca iyo astaanta Qaramada Midoobay, waxa ayna la beegsaneysaa dacwad sharci ah, oo ah in UNAS ay joojiso adeegsigaas.