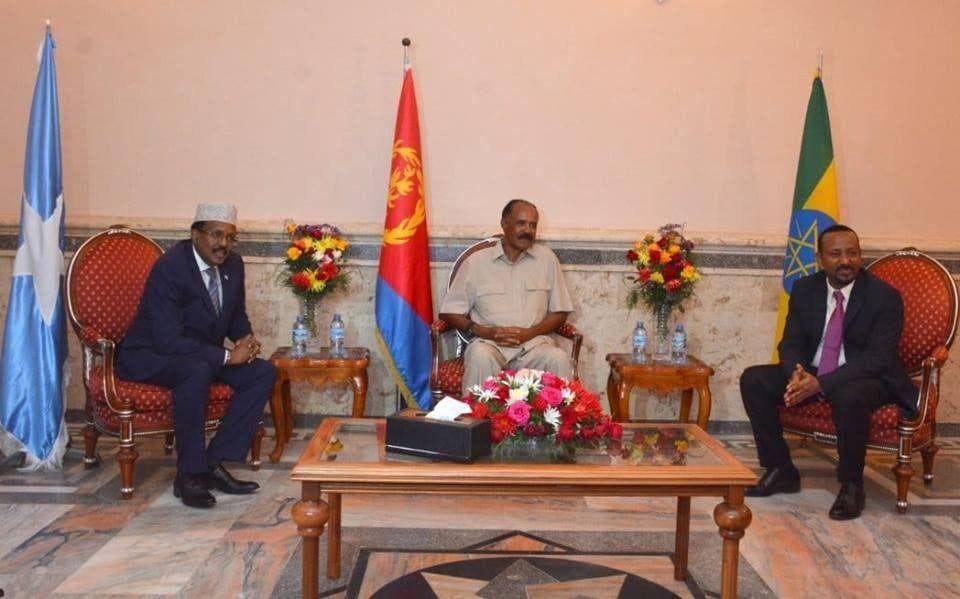 Addis Ababa (Caasimada Online) – Ra'iisul wasaaraha Itoobiya Abiy Ahmed ayaa maanta sheegay in kulan cusub oo saddex geesood ah uu la yeelan doono madaxweynaha Soomaaliya Maxamed Cabdullaahi Farmaaji iyo kan Eritrea Isaias Afwerki.
Abiy ayaa qoraal uu soo dhigay twitter-ka ku yiri "Waxaan la kulmi doonaa walaalahey, hoggaamiyayaasha Eritrea iyo Somalia. Madaxweyne Isaias Afwerki iyo madaxweyne Maxamed Cabdullaahi. Waxaan kala hadli doonaa arrimo kala duwan."
Qoraalka ayaa intaas ku daray in kulanka uu ka dhici doono magaalada Asmara. "Sida caadada ah, waxaan hubaa in magaalada soo dhoweynta leh ee qaaliga ah ee Asmar ay joogitaankeena ka dhigi doonto mid farxad leh.
I will be meeting with my brothers, the leaders of Eritrea and Somalia. President Isaias Afwerki, President Mohammed Abdullahi and I will discuss on a wide range of issues. As always, I am certain our dear and welcoming city of Asmara will make our stay delightful. pic.twitter.com/R6cALsuGxc

— Abiy Ahmed Ali 🇪🇹 (@AbiyAhmedAli) January 26, 2020
Abiy Ahmed ma uusan shaacin goorta uu kulanka dhici doono. Caasimada Online oo xiriir la sameysay madaxtooyada Soomaaliya weli kama aysan soo jawaabin qoraal aan u dirnay.
Kulankan ayaa imanaya ayada oo 11-kii bishan uu madaxweyne Farmaajo kasoo laabtay magaalada Asmara, oo uu kula soo kulmay madaxweyne Afwerki, kalana soo hadlay arrimo dhowr ah.
Soomaaliya, Eritrea iyo Itoobiya ayaa ku jira isbaheysi saddex geesood ah, oo ay dhisteen, balse illaa iyo hadda aysan jirin wax la taaban karo oo uu qabtay.
Madaxweynaha Soomaaliya, oo inta uusan kursiga ku fariisan shacabka u sheegi jiray in Itoobiya ay tahay cadowga koowaad ee umadda Soomaaliyeed, ayaa doorashadiisa kadib ka dhigtay saaxiibka koowaad, ayada oo kadibna ay kusoo biirtay Eritrea.