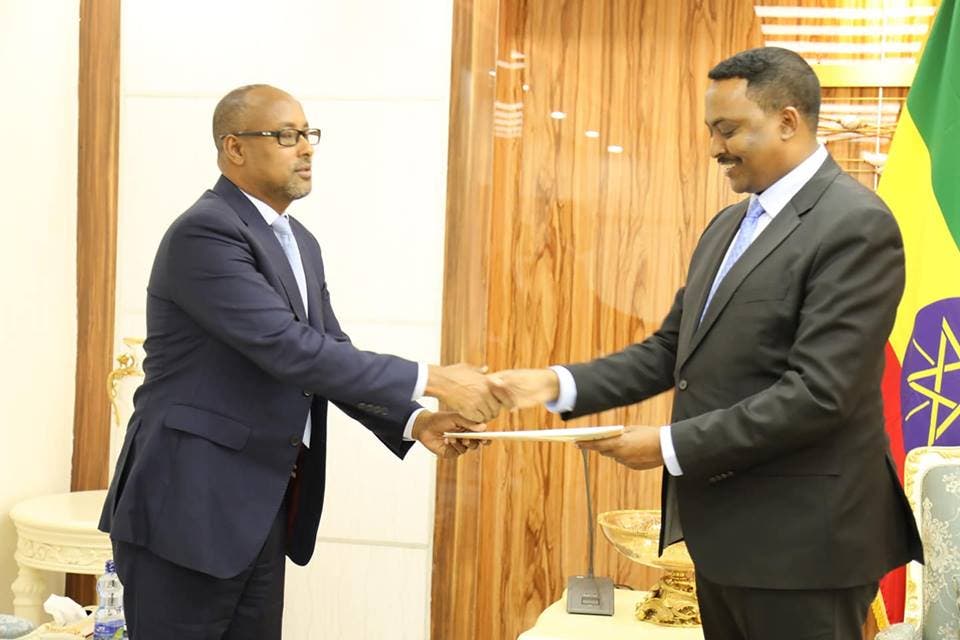 Addis Ababa (Caasimada Online) – The Ambassador of the Federal Republic of Somalia to the Federal Democratic Republic of Ethiopia, Ali Sharif Ahmed, handed over a copy of his credentials to the Minister of Foreign Affairs, Dr. Workneh Gebeyehu.
In the meeting, which focused on ways to strengthen bilateral relations, the Ethiopian foreign minister stressed that there is an ambition to promote the bilateral relations between the two brotherly countries with a historical dimension to achieve the desire of the Somali and Ethiopian peoples.
For his part, Ambassador Ali Sharif praised the strong relations between Somalia and Ethiopia and the common desire of both parties to deepen relations and cooperation in various sectors.
He also conveyed the greetings of the foreign minister, the government and all Somali institutions to the Ethiopian government and people
In June 16, 2018, Ethiopian PM Abiy Ahmed and Somali President Mohamed Abdullahi "Farmajo" agreed to "strengthen their brotherly bilateral relations.
The two leaders also announced they will jointly inves in four seaports to attract foreign investment to their two countries, the latest move in a tussle for access to ports along one of the world's most strategic waterways.
The announcement was made after Ethiopian PM Abiy Ahmed arrived in Somali capital Mogadishu.
Ethiopia has over 4,200 troops serving under African Union Mission in Somalia.
In addition, several thousand Ethiopian troops operate in various parts of Somalia and not serve under African Union peacekeeping mission in Somalia.
Caasimada Online
Mogadishu News Desk